November 07, 2010 -
Matt Bowen
Sunday post game notes: late kickoffs
Let's check out some quick notes from the late afternoon kickoffs…
Click here to read my post game notes from the Week 9 early kickoffs
Vick's return: Saw a lot of what made Andy Reid go back to Vick and make him the No.1 in Philly again. The patience in the pocket, being selective when he decided to run the ball and good vision down the field. Followed through on his throws and now has this Eagles team at 6-3 after beating Manning and the Colts. The final stat line: 17-29 for 218-yards and a TD, plus 74-yards and another score on the ground.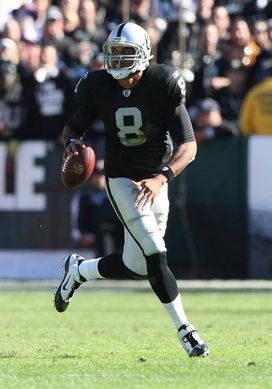 ICONOakland's Jason Campbell.
Raiders in OT: Love the play call by Tom Cable's squad after the Oakland defense forced a three-and-out. in OT Put the game in QB Jason Campbell's hands and throw the deep post to Jacoby Ford after he beats the CB to the middle of the field. The throw? Near perfect—out in front of the receiver where only he could make a play. Huge win for Oakland in one of the best game's I have watched this season.
The Collie hit: I don't know where to go on this hit that sent Colts' WR Austin Collie to the locker room on a stretcher with a concussion. From my point of view as an ex-defensive player, it looked like DBs playing hard, and the hit was unavoidable. No one wanted to see the end result, but I don't have an answer—because the game is just to fast to slow it down right now. Was it necessary to flag the Eagles? By rule, yes. But, Philly's Kurt Coleman was just playing hard—and wasn't trying to deliver a helmet-to-helmet blow. It is a violent game.
The Giants: Statement game? Says something when you travel from the east coast, play in the toughest road venue in the league, and completely dismantle the Seahawks. New York controlled the ball for over 42 minute and racked up almost 500-yards of total offense. That is physically beating a team down.
Tony Moeaki: Will start by saying I am biased here. I know Tony well and we are both Iowa alums, but how can we not agree that the Chiefs' rookie TE is playing like a veteran? Runs routes like a pro, has soft hands and is going to be a factor all season for Matt Cassel and this K.C. offense. Type of TE that can become a matchup problem for opposing defenses. 6 receptions for 63-yards.
Darren McFadden: I'm going to come out and say that he looks like a different back. Still has the edge speed that made the Raiders draft him in the top 5, but the way he is finishing runs stands out from my perspective. McFadden is paying like a true pro back that has to break tackles. 89-yards on 17 carries.
Blown opportunity for Whitehurst: With Matt Hasselbeck out with a concussion, this was a great opportunity for Seahawks' QB Charlie Whitehurst to really step up and maybe win a job moving forward. But, going 12-23 for 113-yards and a INT isn't going to get it done in the NFL. Whitehurst, along with the rest of the Seahawks, looked soft for the second straight week—this time at home.
Check back to the NFP tomorrow for my "winners" and "losers" from the Week 9 Sunday games.
Follow me on Twitter: MattBowen41