August 12, 2012 -
Matt Bowen
Sunday was all about Andrew Luck
This afternoon, Twitter was buzzing with comments, opinions, etc. of No.1 overall pick Andrew Luck after his first preseason start for the Colts. Understandable with the rookie throwing for 188-yards (10-16 passing) and two TDs. And once I got home from Bears camp, I went back and checked out the QB vs. the Rams. Here are some quick notes…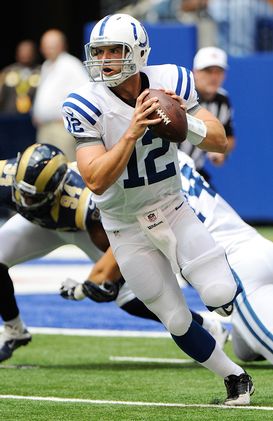 US PRESSWIREAndrew Luck looked the part of the No.1 overall pick on Sunday vs. the Rams.
- I like the idea to start with the RB "shoot screen" that Donald Brown took 63-yards for the score. What do we normally see with a rookie taking a snap for the first time? A handoff in the run game. Same thing here with the screen. Give him something to start with that you install on the first day of camp.
- Pocket awareness. We talk about all of the time with young QBs because they will panic, retreat vs. pressure and drop their eye level when they are forced outside of contain. I didn't see that with Luck. He showed the ability to slide vs. pressure, step up and still find an underneath option. That's advanced at this point in the preseason.
- The "Out" route. WR pre-snap split on the top of the numbers (create room on the sideline), proper footwork from Luck out of the gun and a pass thrown to the up field shoulder—away from the defender. That's good football.
-The TD pass to Austin Collie. Ace personnel (2WR-2TE-1RB) on the field (Unit Slot Wing formation) vs. Cover 2. Put two verticals (Seam-7) on the deep half safety and read the open (weak) side CB. With the Rams CB sitting short and not sinking with enough depth (puts stress on the safety), Luck was able to target Collie on the 7 cut (corner route) in the end zone.
- The inside vertical seam vs. a Cover 2 Mike backer. This is about ball placement. The Mike will open his hips to the passing strength and carry the seam, but Luck puts this throw high and to the outside giving his receiver a chance to go make the play for him.
What can we take from this? Luck played well. There is no question about that. He looked NFL ready with his footwork and ability to read the top of the secondary. That's a good start, and just as I wrote this morning, it has to continue. He will see some things on the tape he has to correct. But there is no denying the talent here with the Colts' QB.
Follow me on Twitter: @MattBowen41