August 02, 2011 -
Matt Bowen
Super Bowl or bust in Philly?
When I played for Dan Snyder in Washington, we made headlines during the offseason. Big names, big contracts—every year. It was amazing how many new players we brought into the locker room during free agency.
The results? A little taste of success once Joe Gibbs came back to the sidelines, but nothing close to planning parades or getting sized for rings.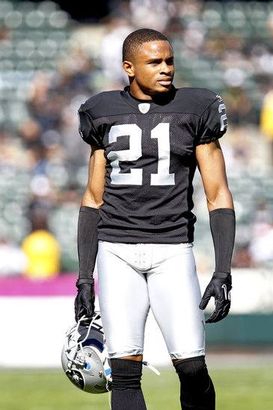 Asomugha was the biggest name to land in Philly, but the Eagles have been picking up plenty of new talent.
Does that mean the "Dream Team" in Philadelphia will see the same disappointment on the field? No, but I can tell you that building a football team requires a lot more than bringing in talent, signing checks and handing out a new uniform.
I like what the Eagles have done throughout free agency. The big move for Nnamdi Asomugha, Cullen Jenkins, Vince Young, the trade that brought in Dominique Rodgers-Cromartie, etc. And they haven't stopped, adding RB Ronnie Brown just this afternoon.
Andy Reid and the Philly front office has done some work to seriously upgrade the roster. And we are talking about a team that was in the playoffs last year with a unique talent at QB in Michael Vick.
Easy to slot them in as the NFC favorite and onto the Super Bowl right?
Sure, in early August. But even with all of that talent, there will be a process—one that includes the coaching staff—to mix all of these new names into a proven system that wins.
Training camp will be crucial to molding this team. Players will have to get a feel for each other on the field and in the meeting room. That takes time and work before the regular season kicks off.
Plus, when we do get to September, the first sign of adversity (an injury, tough loss) will challenge this team and the new faces to respond and play the game like pros.
Every team approaches free agency with a plan, and it is obvious that the Eagles were ready to spend big and put together a team that will contend for a championship. We are looking at a club that is now loaded with real talent.
However, there are teams in Green Bay, New Orleans, Atlanta, Dallas, etc. that are going to be ready to play this year as well. Let's see who comes out on top. Give the (shortened) offseason crown to the Eagles in the NFC, but it takes a lot more to win a title.
Follow me on Twitter: MattBowen41