December 14, 2011 -
Matt Bowen
Suspension warranted?
I'm looking for your opinion this morning after Steelers' LB James Harrison was suspended for one game by Roger Goodell and the league office following his helmet-to-helmet hit on QB Colt McCoy last week.
The same hit that left the Browns' QB with a concussion and looked intentional from my point of view as a former player.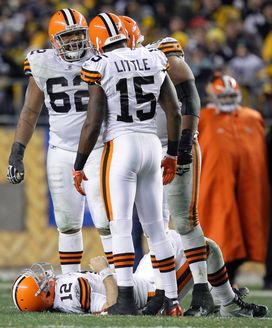 The helmet-to-helmet hit Harrison delivered to McCoy left the QB with a concussion.
Do you approve of the one-game suspension? Should it been multiple games? Or would you have rather seen the league hand out yet another fine to the Pittsburgh LB?
The way I see it, you have to sit Harrison down.
I stand behind my point of view that many of these hits we see on Sundays are unavoidable. No other way to spin it when a defenseless receiver puts his head down the moment before contact in the secondary.
This is a fast game and you can't act quickly enough as a DB or a LB to avoid that contact. I will always support that and stand behind players that go hard in the secondary and occasionally put that helmet on an receiver coming across the middle.
However, lets be honest here when it comes to Harrison. A great player (maybe the top defensive player in the NFL) that also has a track record of fines and violent hits in this league.
What he did to McCoy this past Thursday night has to be punished—and another hit to Harrison's wallet (or another slap on the wrist) just isn't going to get the job done.
The concussion issue in the NFL is real. There are players that will have lasting effects from head injuries in their 30's, 40's and into the later stages of their lives because of the violence we watch every week.
And the NFL doesn't have an answer for it. Sure, they will give you the PR stance on concussions, but they have no idea how to control them.
This is one way to handle it. Clean it up. Just like the NFL did with Ndamukong Suh after the situation on Thanksgiving that lacked some professionalism.
Take the pads away for a week (or two if necessary) and sit players down. Let them know that they will have to alter the way they play the game when it comes to contact at the point of attack. And if they don't change, then sit them down again and again until they learn.
There are rules—and every player now has to follow them.
Follow me on Twitter: @MattBowen41