November 24, 2010 -
Matt Bowen
Talk of Tebow starting for Broncos doesn't add up
The talk of Tim Tebow taking over at quarterback out in Denver is beginning to surface. Not surprising given the Broncos' 3-7 record and the fact that the former Gator was a first-round pick this past April. However, the idea of sitting Kyle Orton for a rookie down doesn't add up.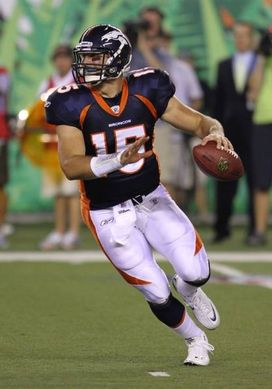 ICONDenver's Tim Tebow.
I have never been a believer that NFL team's have to "see what they have" in quarterbacks, or backup players at any position at the end of the regular season. I said the same thing when talking about Brett Favre and Tarvaris Jackson in Minnesota. This isn't college football where you try to get underclassmen on the field to see what they can do in a late season conference game. You don't build programs in the pros. Instead, you play to win, because that is what you are paid to do—regardless of what your record says in late November and early December.
Orton is the No.1 in Denver for a reason—production. He is third in the NFL in passing yards (3,023) behind the Chargers' Philip Rivers and the Colts' Peyton Manning. Pro Bowl numbers when you add in the 17 TDs compared with only 7 INTs. And, that is how you determine depth charts and the difference between a guy who is on the field and a guy who is standing on the sidelines.
I completely understand that drafting Tebow in the first-round will give him more opportunities over the course of his career. Unfortunately, that is the NFL way. But when it comes to a debate on inserting a rookie QB into the regular game plan over a proven starter, who is throwing up ridiculous numbers, the talk should stop there.
Plus, we should mention the job security of Josh McDaniels. His team has regressed since the 6-0 start in 2009. He needs wins—and a strong finish—to quiet any talk about the Broncos making a move for a new head coach. Orton gives him that chance to win games when compared with Tebow.
Some options for Denver if they want to see more of the rookie on Sundays? Install more personnel packages that allow Tebow to take a 5-step drop or to work out of the gun. Allow him to read coverages and go through his entire route progression. Put the gadget, Urban Myer style offense on the shelf for an afternoon. Instead, put Tebow into a realistic NFL setting where he has to play like a No.1 QB.
Outside of that, stay the course with your starting QB, work to become a more physical team and start to put together a string of wins. Because that sells.
Follow me on Twitter: MattBowen41