November 17, 2011 -
Matt Bowen
Tebow vs. the Jets' defense: what to watch for
Lets' talk Jets-Broncos as we lead up to kickoff tonight out in Denver. The matchup I want to see? QB Tim Tebow vs. Rex Ryan's defense. With a legit secondary—and pressure up front—we should learn a lot about the Broncos' QB tonight.
Here are three things I want to see from Tebow tonight...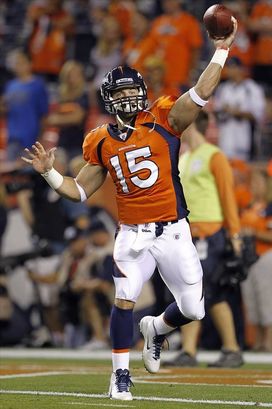 ICONTebow matches up vs. Rex Ryan's pressure scheme tonight in Denver.
1. The Broncos' route tree: Will Denver open up the offense? That game plan from last week vs. K.C. was enough to win a football game, but I don't see how it can carry over vs. the Jets. Think game situations here: 3rd downs, red zone, etc. Tebow will have to make some throws, work against a top tier secondary that plays press-coverage and move the sticks. No question Revis, Cromartie, etc. will sit on some routes and jump underneath inside breaking concepts. However, to win this game (and stay in the AFC West discussion), we need to see Tebow throw the dig route, the 7 (corner) and convert in the 3-step game. And there is nowhere to hide vs. the Jets' secondary.
2. Managing the Jets' pressure packages: We all know the blitz is coming. Even with a short week of practice, the Jets will carry a complex game plan to the stadium. Overload pressure, multiple fronts, unique pre-snap disguises and safeties that will roll coverages. Tough on any young QB to read through his progressions and understand where the pressure is coming from. Tebow must use his hot reads, get rid of the ball and avoid taking sacks. If I am Rex Ryan, I dial up pressure early (in the fist series) to see how Tebow responds. And if he can't handle it, I am going to pour it on.
3. Creating big plays: The Broncos have catered their call sheet to fit Tebow's skill set. We will see the read option. Align Tebow in the gun, ride the RB through the mesh point and read the DE/OLB. Tough to prep for from the perspective of the Jets when you don't see it on a consistent basis on Sundays. Look for the boot, swap boot, dash, sprint, etc. Anything that allows Tebow to get outside of the pocket and use his athletic ability. However, the key for the Broncos is to generate some explosive plays with this style of offense. No question Lance Ball and the running game has to show production ,but when you design packages to utilize Tebow's skills, you must see some results on the field.
This is an interesting matchup from my perspective—and a big test for Tebow. Let's see how he plays...
Follow me on Twitter: @MattBowen41