January 25, 2013 -
Matt Bowen
Ten observations from Senior Bowl week
After spending the week at the Senior Bowl down in Mobile, here are ten observations I took back with me to Chicago. My notes on the quarterbacks, the talent at the offensive tackle position, wide receivers, the best barbeque in town and more.
1. Questions at QB: I asked three pro scouts who had the best week of practice in Mobile and I got three different answers: Ryan Nassib, Mike Glennon and E.J. Manuel. My take? I'm going with Nassib. The Syracuse QB will need to develop his overall game, but the skill set was the best I saw on the field. Without Geno Smith and Matt Barkley (both opted out of the Senior Bowl), this group didn't have one QB that stood above the rest.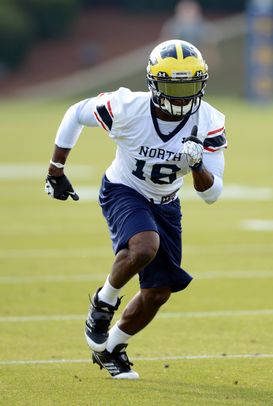 US PRESSWIREIt will take some time for Denard Robinson to make the transition to the WR position at the NFL level.
2. Denard Robinson looked tentative: I know Robinson is making the transition to the WR position and that is going to take some time when breaking down his ability to run clean routes. And I also give Robinson credit for showing up to compete with a previous injury. However, I didn't see the dynamic playmaking ability the former QB displayed at Michigan with the football in his hands. Whether it was fielding punts or showcasing his talent after the catch, Robinson didn't play at a high level this week.
3. First Round Talent at Offensive Tackle: Both Eric Fisher (CMU) and Lane Johnson (Oklahoma) displayed solid footwork, technique, power and could be the next two tackles to come off the board this April after Texas A&M's Luke Joeckel. They weren't perfect on every rep, but you could see enough in 1-on-1 and team drills to know that these two will make some money this year.
4. Solid group of wide outs: Markus Wheaton (Oregon State), Quinton Patton (Louisiana Tech), Chris Harper (Kansas State), etc. However, the one prospect I really enjoyed watching this week was Marquise Goodwin (Texas). The WR has legit speed and I'm interested to see how he fits in an NFL game plan next season. He could be a playmaker.
5. My top two DBs: CB Desmond Trufant (Washington) and SS Jonathan Cyprien (FIU). Both prospects have a swagger to their game and they want to compete. Trufant has quick feet, can turn the hips, change directions and play press. Cyprien is built like an NFL safety. And while he is a better fit in the box from the scouts I talked to, he also got some work in the deep middle of the field. Physical player that will use his pads in the run game and take proper angles to the ball.
6. Small school prospects: I love watching small school talent compete (and win) vs. prospects from BCS programs. That's what I saw with DT Brandon Williams (Missouri Southern) and CB Robert Alford (Southeastern Louisiana). Williams is quick off the line and turned some heads in 1-on-1 drills. And while I did get some questions on Alford's size (5-9), the CB has good feet and can close on the ball. Let's keep an eye on these two throughout the draft process.
7. Raw talent at DE: Margus Hunt (SMU) and Ezekial Ansah (BYU). Both are really raw at this stage of their development and must work on their technique when they rush the passer. Can't lean on the bull rush when you compete against top competition. They both need pro coaching. A pretty common theme when catching up with scouts before I left town this week.
8. The RB position: Two names that impressed me down in Mobile: Stepfan Taylor (Stanford) and Mike Gillislee (Florida). I liked their vision, burst through the hole and ability in the open field. Good backs that can fit in pro schemes.
9. 1-on-1 drills don't disappoint: My favorite part of the week. There is so much you can get out of watching a DB or a WR or a DE in 1-on-1 work where they have to win with technique. You won't get away with poor footwork nor can you lean on speed when the competition level rises down in Mobile. Some players were exposed while others stepped up in these matchups in front of the NFL's top coaches, scouts and GMs.
10. Best barbecue in Mobile: There are some great places to grab food in Mobile when it comes to barbeque, but I'm sticking with the Brick Pit. My new favorite lunch spot during Senior Bowl week. If you get down there, make sure to stop by and get the pulled pork plate with baked beans and coleslaw. Outstanding food.