July 27, 2012 -
Matt Bowen
Ten rookies to watch during training camp
Click here for my training camp advice for rookies.
While watching the Bears WRs run through individual drills on Thursday down at camp I spent some time focusing on rookie Alshon Jeffery's release, stem and break at the top of the route. Where is Jeffery at in terms of his development? And here are ten more rookies that I am curious about as camps start to get underway around the league.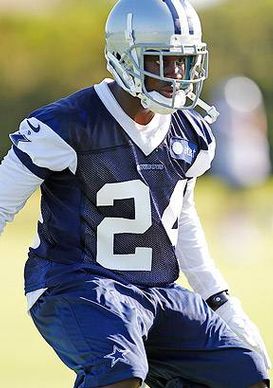 Rookie CB Morris Claiborne has to develop quickly in the Cowboys' pressure scheme.
1. CB Morris Claiborne, Cowboys: With the pressure style defense the Cowboys want to play under Rob Ryan, reps in practice and throughout the preseason schedule are vital to Claiborne's development. Whether in a press or off-man position, the rookie from LSU needs to get beat in camp and make the necessary technique adjustments that will allow Ryan to send six or seven man pressure during the regular season.
2. TE Coby Fleener, Colts: Run the inside option route, the dig (square-in) or the 7 (corner) in the red zone. And don't forget about alignments where the Colts can remove Fleener from the core of the formation. With rookie Andrew Luck at QB, Fleener can be a top target in the intermediate passing game and when drawing a favorable matchup vs. a SS or LB.
3. SS Mark Barron, Bucs: I don't doubt Barron's ability to align in the box, fill on the run and play a physical brand of football. However, what about the rookie's technique in man-coverage? Looking at the TEs in the NFC South (with the Saints Jimmy Graham at the top of the list), Barron has some tough matchups on the schedule. I'm excited to see him play.
4. DE Shea McClellin, Bears: I will be at Bears camp over the weekend when Lovie Smith's club puts the pads on and I'm looking forward to watching McClellin in pass rush drills. As I wrote in the Chicago Tribune, speed is one thing rushing off the edge in the NFL, but developing counter moves leads to early success at the DE position.
5. WR Stephen Hill, Jets: We all know the Georgia Tech product can run and fill a void on the Jets roster as a vertical player (think top of the route tree: fade, post, 7). But there is much more than running a 9 (fade) route in the NFL. Every rookie WR needs work vs. press-coverage against veteran DBs as they begin to transition to the pro level. Speed sells, but so does the ability to set up a CB and flip the field based on technique.
CONTINUE READING ON PAGE 2…