September 04, 2012 -
Matt Bowen
Ten Week 1 questions
With the 2012 season kickoff off tomorrow night in New York, here are 10 questions I have on the Week 1 NFL schedule...
1. Is Urlacher ready to play?
The Bears MLB was on the practice field yesterday, but as I wrote during training camp for the Chicago Tribune, the veteran has missed valuable time (and reps) throughout the month of August. What am I looking for from the LB? Pursuit to the football, lateral quickness, the ability to run the inside vertical seam in Cover 2 and tackling. It has been almost nine months since Urlacher was in a live game situation.
2. How will the Rams game plan for Calvin Johnson?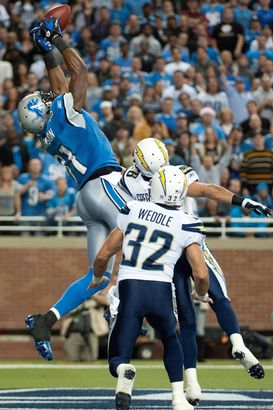 US PRESSWIREThe Rams need to come up with a game plan to limit Calvin Johnson.
I will ask this question every week because I don't have an answer. If you play Cover 1 (man-free), you better win down the field on the 9 route (plus get safety help). And if you lean on Cover 2, don't allow a free release at the line of scrimmage—because that puts enormous stress on the deep half safety vs. Johnson. I could see the Rams playing some Cover 6 (Quarter, Quarter, Half) will a rolled up CB over Johnson or 2-Man (2-deep, man-under) on Sunday.
3. Can the Cowboys handle the Giants' front-four?
During the preseason, Dallas showed some 8-Man (max) protection schemes to get the ball down the field. Bring Ace (2WR-2TE-1RB) or Regular (2WR-1TE-2RB) personnel on the field and run "two-man" routes to test the top of the secondary. Will we see more of that tomorrow night? Might have to in order to keep QB Tony Romo off the ground vs. Pierre-Paul, Tuck, Umenyiora, etc. Remember, New York has the best defensive front in football and can get home with a four-man rush.

4. Where is the hype for the 49ers-Packers matchup?
Why aren't we talking more about the matchup Sunday up at Lambeau? Rodgers vs. the Niners' secondary, the San Fran running game vs. the Green Bay defensive front, Randy Moss, Woodson, etc, This game should be physical and we get also get to check out two defenses that will show multiple looks, bring pressure and jump routes in the secondary. And I expect to see this matchup again in the NFC Championship game.
5. Will we see an "expanded" game plan for RGIII?
The Redskins didn't show much in the preseason from a game plan perspective with rookie Robert Griffin III at QB. This Sunday? I would look for more designed runs for Griffin and sprint action to go along with the multiple boots we see in Shanahan's system. Get the rookie outside of the pocket and let him display that skill set that will causes issues for opposing defenses. Time to open up that playbook the 'Skins have been sitting on all summer.
CLICK TO PAGE 2 TO CONTINUE READING