August 23, 2011 -
Matt Bowen
Terrelle Pryor playing Tight End? Not so fast…
On Monday, I wrote a post on Terrelle Pryor after the Raiders selected the former Buckeys QB in the third round of the supplemental draft. A player that needs to be coached up at the NFL level to develop at the position. After that? Anyone's guess as to what we ultimately see out of Pryor on Sundays under center. Some work to be done.
However, what about Pryor transitioning to the TE position?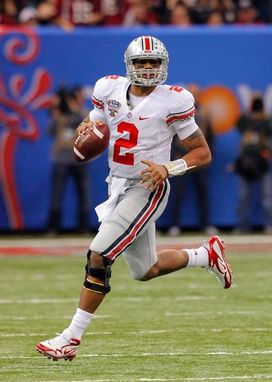 ICONCould Pryor transition into a three-down player at the TE position for the Raiders?
Last night, talking NFL on Yahoo! Sports Radio and over at ESPN Radio, that discussion came up. Is this a better fit for an athlete like Pryor in terms of playing on a consistent basis in this league? Here are my thoughts…
- It sounds great to project him as an Antonio Gates type of receiver in the playbook, but can he get nasty up front? Block down on a DT, reach block a DE and finish off LBs in the run game. It is a physical job to be a three-down player as a TE in this league. And often times, it is a dirty job inside the box.
- Athletically, I can see Pryor working inside of the numbers—and that brings up matchups. Is this a player that can win vs. a LB or a SS in space? Can he run the inside vertical seam, beat a defender on a simple option route and show up inside of the 20-yard line?
- Aligning in multiple positions. Think about it: remove the TE from the core of the formation as a slot player, use him as the backside X receiver (split end) or aligned in a bunch look. Create a situation where the TE can win down the field.
- I mentioned that Pryor would need pro coaching (and time) at the QB position. Apply that to a position change? Same deal. He would have to be coached up to learn new angles, new techniques and a new style of play. That is a project.
Can it be done? Anything is possible with good NFL coaching. But remember, we are trying to project a QB into a much more physical role that he has never played vs. real competition. I get the idea. This is the Raiders. They look for size and speed in all of their skill players, and Pryor brings that to the table. But let's see how he handles the QB position first.
Follow me on Twitter: MattBowen41