December 22, 2011 -
Matt Bowen
Texans-Colts: Three things to watch for tonight
Let's look ahead to tonight's Colts-Texans matchup in Indy. Three things to keep an eye on in a game that Houston needs to win if they want to stay in the hunt for a first round bye.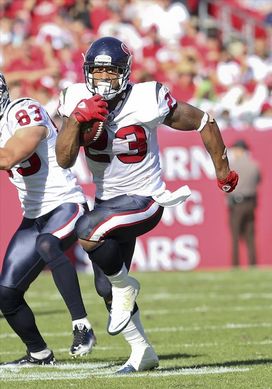 ICONExpect to Arian Foster and Ben Tate to see plenty of touches tonight vs. Indy.
1. Texans' run game: With WR Andre Johnson out with a hamstring injury and a rookie QB under center, look for Houston to ride Foster and Tate in the run game. Lead with the 2-back run package (Power O, Counter OF, Lead Open, etc.) and work the edge of the defense with the stretch and outside zone schemes. Indy will play their Cover 1 (man-free) and Cover 3 (4-under, 3-deep shell) to walk a safety down in the run front, but this is still a matchup that favors the Texans. Move the sticks in early down and distance situations and set up up the 3-step route tree for QB T. J. Yates on third downs. A game plan that fits in Houston.
2. Jonathan Joseph vs. Reggie Wayne: A matchup I hope to see outside of the numbers tonight. Looking at the Indy playbook, Joseph will have to defend the 9 (fade), 7 (corner), the smash, the deep dig (square-in) and be alert for the WR missile screen (bubble screen). This matchup won't be the same without Peyton Manning directing the Colts' offense, but we still get to see top-tier talent compete. Keep an eye on the Texans' CB when he aligns in a press-position. Good hands, solid footwork and the ability to turn his hips and run.
3. T.J. Yates vs. Cover 2: The Colts—like the Bears and Vikings—will still lean on their Core Tampa 2 coverage on 3rd and long, inside of the red zone and in two-minute situations. The top concepts to beat Cover 2 haven't changed: Flat-7, 4 Verticals, OVS (9-7-Flat), etc. However, Yates must make good decisions with the football. Throw the flat, take the check down and don't try to force the ball down the middle of the field or in the deep half when Indy drops seven into coverage. And for any rookie QB playing against the speed of Colts' DEs Robert Mathis and Dwight Freeney, ball security in the pocket is key. Yates threw two INTs in the Week 15 loss to the Panthers (with one coming in the red zone). Tonight, throwing the check down is safe and protects field position.
Follow me on Twitter: @MattBowen41