November 25, 2010 -
Matt Bowen
Thanksgiving game notes
Let's take a quick look back at Thanksgiving Day in the NFL. Five things that stood out in wins for the Patriots, Saints and Jets...
1. Brees to Moore: Let's break this down. New Orleans has their base pro personnel on the field with both WRs aligned in tight (or "nasty") splits vs. the Cowboys pressure look. The Saints use play action to get what they want: Lance Moore vs. Mike Jenkins. Moore wins at the line of scrimmage and Brees (352-yards-1 TD-1 INT) is able to hit him for the game winning TD on the skinny post. No excuse for Jenkins to give up inside leverage in that situation. That's bad football and it comes down to technique.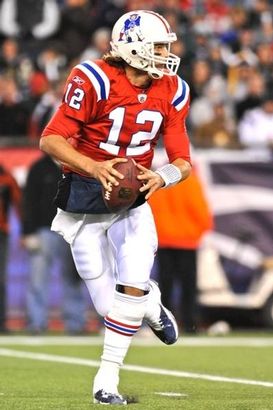 ICONBrady threw for 341-yards and 4 TDs in the 45-24 win at Detroit today.
2. Brady vs. Detroit: This is the result when we watch the Patriots' QB matchup against a below average secondary. Brady goes 21-27 for 341-yards and 4 TDs in the 45-24 win over Detroit. He played big in the red zone, completed passes to seven different receivers and is almost methodical with his approach to the game plan—which will change every week with the amount of personnel New England uses. At times, it looked like Brady knew where he was going with the ball before he took the snap. A sign of a QB who is seeing the entire field and making the correct reads.
3. Revis vs. T.O.: Give the win to Revis. Owens caught three passes: a slant vs. pressure with Revis playing to his inside help, a WR screen and a comeback on a bad ball. That's it—for a total of 17-yards. T.O. will always make plays in the underneath game because of his size and his ability to shield defenders from the ball. However, separating down the field is a different story against Revis. The Jets' CB can play both press and off-man coverage, is physical with his hands and always gets to the hip of the WR. That was clinic tape tonight from Revis—and he clearly outplayed Owens.
4. The Malcolm Jenkins' strip: Can you make a bigger play as a defensive back in a Thanksgiving Day game? Let's be honest here, because the strip of Cowboys' WR Roy Williams was all about effort and knowing the situation. I have talked about it before, as a "trail" player you can take advantage of poor ball security by the receiver. Punch the ball out from behind, or go with the overhand strip that we saw today from the Saints' safety—and never give up on a play. Because one play can completely reverse the outcome of a game.
5. Mark Sanchez: Even with the deserved hype that the Jets' QB received last week in the win over the Texans, there are still obvious situations where we can question his reads and decision-making process. I thought that Sanchez held onto his No.1 read too long and missed poorly on some throws. Plus, he still needs to understand that punting the ball is a win with the Jets' defense. Sanchez is more than capable of making plays in this offense, which we saw tonight in the 26-10 win over the Bengals. But there are still signs of inconsistent—and inexperienced—play that are very noticeable.
Hope you had a great day with the family on this Thanksgiving…and enjoy the college football tomorrow.
Follow me on Twitter: MattBowen41