February 16, 2012 -
Matt Bowen
The '40 times' are coming
The 40-yard dash is still the ultimate test at the NFL scouting combine. Look past the 3-cone drill, short shuttle and the broad jump. Those drills will all be taken into account when grading a prospect based off of his numbers in Indianapolis next week, but the 40 will create some serious "buzz" if you post a solid time.
It was the same way when I ran back in 2000 at the combine and it will be no different this year. Because the 40-yard dash can make you some money.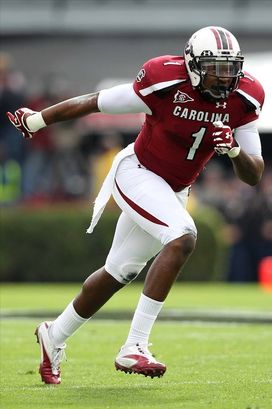 ICONThe 40-yard dash will impact the draft stock of players such as South Carolina WR Alshon Jeffery.
There is a reason prospects train at API (Athletes' Performance Institute) or work daily with their college strength coach back on campus on their stance, start, stride and finish.
I completely understand that the 40 isn't a very good judge of "football speed" when you turn on the tape. And outside of covering a kick on special teams, breaking a run in the open field or chasing from behind as a DB in a trail position when you are beat, you don't play this game with top end linear speed.
Even in your own tape study, you are watching game situations that don't apply to a prospect's ability to explode out of his stance, build up speed and finish through the line.
However, the 40 still plays into your grade as a prospect—because speed sells.
WRs, DBs, RBs, QBs, etc. NFL GMs and head coaches want to get a time on these prospects as part of the scouting process.
Look at a prospect like South Carolina's Alshon Jeffery. Size and production at the WR position, but still some questions on his speed. The same questions brought up by the NFP's Wes Bunting in his scouting reports and the NFL Network's Mike Mayock yesterday in a conference call with the media.
What happens if the WR posts a time next week in the 4.6s or beyond? Then the real questions will start to surface, because like CB, Jeffery plays a "stopwatch position."
These times do impact your draft stock, and for most prospects, it is the one test that trumps every other drill, interview or position specific movement you do on the field in front of the entire NFL.
The key, however, is to take that 40-time and apply it to the game tape to continue the grading process. That is the one piece of advice I can give you when we start to see these results posted in Indy.
But those 40-times will still create a major buzz in Indy for prospects that run well and bring more doubts for those who don't.
Because it is still the one test that everyone will be talking about when the combine wraps up.
Follow me on Twitter: @MattBowen41