December 09, 2011 -
Matt Bowen
The 'back-shoulder' fade strikes again
Watching the Steelers and Ben Roethlisberger close out the Browns tonight in the 4th quarter, I am still trying to figure out how to stop the back-shoulder fade. Why? Because that is the exact route WR Antonio Brown ran to beat man coverage and get into the open field for an 79-yard TD to give Pittsburgh the 14-3 win. Big throw and catch in a game where Roethlisberger had to play with some pain.
Here are a couple of quick thoughts (and questions) on a route that continues to kill NFL secondaries in 2011…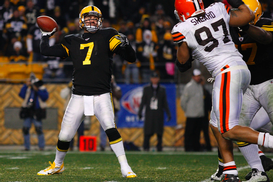 Roethlisberger threw the back-shoulder fade to Antonio Brown to close out Cleveland in the 4th quarter.
- I broke down this route before from a red zone perspective with Aaron Rodgers and Greg Jennings in Green Bay. A smart call (and a safe call) inside of the 5-yard line, but it carries the same impact out in the field as we saw tonight.
- Start with the pre-snap read. If the QB reads pressure (man-pressure), he is going to check to the 3-step game. Think basic here with the slant vs. off-man or the 9 (fade) route vs. press-coverage.
- Playing the fade. Let's keep it simple: get hands on the WR, open your hips and work to the up field shoulder. You want to push the WR towards the sidelines, cut off the angle down the field and the find the ball.
- In a blitz-man call (or even base Cover 1), you don't have any help on this route. The FS's angle from the middle of the field is going to be over the top—nowhere near the throw. This is a true one-on-one situation.
- The major issue isn't coverage (or leverage), but teaching a DB to find the ball. I want to say you can sit low on the inside hip (almost like a trail-technique in 2-Man). But vs. a WR with the speed of Pittsburgh's Antonio Brown, you can't give him an opportunity to work up the sideline while you wait for a back-shoulder throw.
- My best advice right now? Win early at the line of scrimmage, read the hips of the WR (he will have to turn to find the ball himself) and "play the pocket." A simple coaching technique to stick your hands right in the mesh point and try to get a piece of the ball.
I'll be honest here, because this route bothers me as an ex-defensive back. You should have the ability to win vs. any route scheme based on your technique.
Forget speed or skill set. Technique should sell at the NFL level. But I can't tell you what that technique is when I see another WR win down the field on a route/throw that is almost unstoppable.
Follow me on Twitter: @MattBowen41