August 06, 2011 -
Matt Bowen
The best I've ever seen
Marshall Faulk is the best football player I have ever seen. He was complete. That's the best way to describe his game and approach to Sundays. And I was star-struck by the RB as a rookie when I first arrived in St. Louis...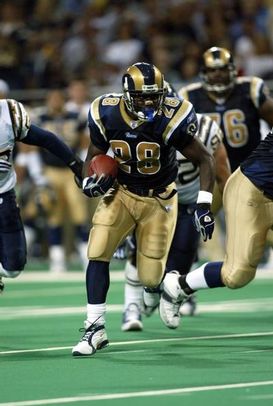 ICONFaulk will be inducted today into the NFL Hall of Fame in Canton.
When I walked into the locker room down at Rams Park on the eve of my first mini-camp as a pro I could hear my heartbeat in my chest. Like any late-round rookie with no hype coming into the pros, I was intent on keeping my head down and my mouth closed.
Get my gear, try not to look star-struck seeing players such as Kurt Warner, Isaac Bruce, Orlando Pace, Todd Lyght, etc. and find my locker. I just wanted to sit down, stay out of the way and play the role of a recent college grad trying to make the roster--for a team that was months removed from winning Super Bowl XXXIV.
Easy, right? Not really, especially when the equipment guys handed me my helmet and pointed to where my locker was—right next to Marshall Faulk.
You think I was speechless? I had posters of this guy back home in high school and I didn't say a word to Marshall that night. And it took me about a month to speak up about anything, until the future Hall of Fame RB looked at me one day and told me it was all right to talk in the locker room.
I only played in St. Louis for one season, really. Broke my foot during my second year in the league on opening day with the Rams by stepping on one of those seems in the turf out at the Vet in Philly. I headed to the IR and then eventually up to Green Bay at about mid-season.
But during the time I did wear a Rams helmet, I learned everything about the NFL game from watching Marshall.
I often talk about being a "pro" when I discuss veteran players in the NFL that stick. Long careers, respect of the locker room, the coaching staff, etc. That Rams team was loaded with true pros, but Faulk had that extra edge.
He approached the game with respect. Because even with this pure talent, body control and vision out of the backfield, Faulk was as smart as they come. A coach on the field. And you could see that in the way he approached his job throughout the offseason, training camp and during his weekly game prep in the regular season.
As for what he did on the field, all you have to do is turn on the tape. Speed through the hole, cutback ability, receiving skills, etc, etc. Faulk could do it all. Anyone who has watched him play can see that. Dynamic as a running back.
I had the privilege of playing with some great talent during my career, but after seeing Faulk play this game up close, there is no one that I can put on his level. He is unique.
And being inducted into the Hall of Fame today is fitting for the best football player I've ever been around. He was that good.
Follow me on Twitter: MattBowen41