November 04, 2011 -
Matt Bowen
The Bills talking big? I like it…
The Bills should talk a little.
They are a 5-2 football team. First place in the AFC East, big plays on defense and an offense under Chan Gailey that is rolling because of the production of QB Ryan Fitzpatrick, RB Fred Jackson (a player I view as a MVP candidate), WR Steve Johnson, etc.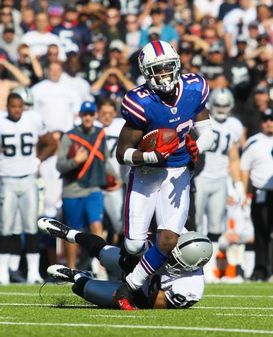 ICONJohnson is talking big on the 5-2 Bills as they prep for a matchup with the Jets.
On Sunday, the Bills host Rex Ryan's Jets in Orchard Park (just one of the key games on the Week 9 schedule). And when we start talking NFL football in November, every game carries added weight in the playoff picture—especially divisional games.
There are plenty of individual matchups to breakdown here: the Jets' secondary vs. the Bills' WRs, Jackson vs. New York's front-seven, Plaxico Burress in the red zone, special teams, etc.
However, what about Johnson talking big this week?
According to the Associated Press (via ESPN New York), the Bills' WR had this to say on Thursday about the Jets: "I don't want to say they're too much of a hype, because they've gotten it done. I think it's our turn now. It's our turn to show that we're going to come in and try to take over this division and make this run be for real."
Are you buying it?
The confidence, a little swagger. Nothing wrong with a player speaking out if they show up at the stadium on Sunday and back it up.
And how often have we heard this kind of talk coming out of the Jets' locker room from players? Or from Ryan at his weekly press conference. The Jets always talk big, making bold predictions. And as I have said before, it is one of the reasons I would want to play for a coach like Ryan.
I think it is about time we hear players like Johnson—on a legit football team—speak with some real confidence, even a little arrogance. That's going to happen when you are a first place club in November.
I like it.
Follow me on Twitter: @MattBowen41