November 25, 2011 -
Matt Bowen
The Champs are rolling
Let's take a look back at the Green Bay's Thanksgiving win over Detroit yesterday at Ford Field. Game notes plus some Xs and Os on the 11-0 Packers.
- Before we get into my notes, I posted a piece last night on Detroit's Ndamukong Suh. I tried to defend him in the past and buy into his style of play, but after seeing him kick (or stomp) a defenseless player yesterday, there is no question the league office should shut him down with a suspension. That was cheap, unprofessional and has no place in the NFL game.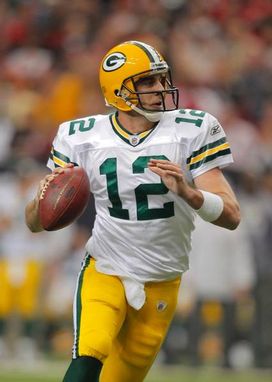 ICONRodgers beat the Lions' Cover 4 scheme on the 65-yard TD pass to James Jones.
- We can learn something here on Aaron Rodgers' 65-yard TD pass to James Jones. Perfect play call given the game situation (after a turnover). Use play action and a target a deep, inside breaking scheme vs. a Detroit defense that will play some Cover 4 (quarters). The SS is coached to read No.2 (TE) in Cover 4. But when he attacks the line of scrimmage vs. a "high hat" read (pass), the CB is left out to dry playing with an outside shade. Sell the fake, force the SS to step to the line and throw the post. Too easy for Rodgers in another 300-yard passing day.
- The early penalties from the Lions were drive killers. Detroit was getting production from Kevin Smith, using the screen game and converting on third downs. But when you play undisciplined football, you aren't going to score points vs. the Champs. Wasted scoring opportunities for this Detroit offense that had balance and solid play calling in the first half.
- Where was Calvin Johnson? Four receptions for 49-yards with his only "impact" play coming on the dig route (square-in) for a score in the final minute of a blowout. One thing the Packers did defensively was play some 2-Man (two-deep, man under) over the top of his alignments. What this does is allow the CB, Tramon Williams, to sit with a hard inside shade and take away any route concepts that break back to the middle of the field. And with the safety help over the top, the vertical passing game is eliminated. Smart football.
- Go back to Charles Woodson's INT. The Lions and Matthew Stafford want to run the "Tare" route. A concept run out of a 3x1 alignment with No.2 (TE) on the option route and No. 3 (slot receiver) in the flat. One of the most common route combinations you will see in the NFL with a 3x1 set. As an underneath defender, Woodson recognized the route, drove downhill with speed and jumped the option route. This is a case of a veteran player understanding pre-snap alignment, route stems and then going out and making the play.
- Do we take Packers' WR Greg Jennings for granted? I'm guilty of it, but every time I sit down to watch him play, I am quickly reminded that he is a true No.1 WR. His route running is clean and he can create separation consistently vs. press-coverage. Plus, when he Rodgers throws that back shoulder fade, Jennings might be the best in the NFL at finding the football. Five receptions, 74-yards and a TD.
Follow me on Twitter: @MattBowen41