July 10, 2012 -
Matt Bowen
The Cover 2 'cheat sheet'
Click here for the entire Inside the Playbook series.
Click here for a breakdown of the top Cover 2 beaters.
When I was playing for secondary coach Steve Jackson in Washington, we simplified our run/pass keys at the safety position playing Cover 2. Forget trying to read multiple players at the snap and instead focus on the No.1 WR—because he will tell you everything you need to know.
Four releases. That's it. Align at 15-yards on your landmark (top of the numbers), understand what you are looking at and allow the WR to tell you a story.
I went ahead and drew this up—straight from my defensive notebooks while playing for Jackson—with the No.1 WR aligned in a plus-2 split (outside of the numbers). Check it out and then we will get into some coaching points.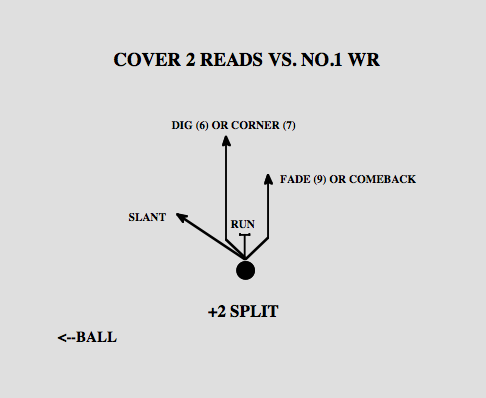 Coaching Points
1. Outside release: Two routes you have to play for. The 9 (fade) and the comeback (breaks at a depth of 12-15 yards). You won't see an inside breaking concept with a wide release (take too much time). Widen to play over the top of the 9 and break downhill on the comeback.
2. Straight release: This is a run. In Cover 2, the CB is aligned in the press position (jam and re-route technique). Once that WR blocks the CB, look inside and fill the "alley" (between the CB and core of the formation). As a safety, you are a "secondary" run support player. No need to rush here. Read the block of No.1, plant the foot and enter into the run front.
3. Three-step release: The 3-step slant. This isn't your play to make as a deep half defender (seam-hook player has to widen). However, your angle on the plant and drive is key. Take an angle that allows you to target the upfield shoulder of the WR and separate him from the ball.
4. Inside release: The WR is creating room to run the 7 cut (corner) route or to break back to the middle of the field on the dig route. Forget about the 9 route here. An inside release (with a vertical stem) tells you to play for the 7 or the dig.
What about a double-move?
Play with technique and trust your eyes. You will see the Post-Corner (or "Dino" stem) as a deep half defender. That is going to happen the longer you play in the league. However, if you understand what the No.1 WR is telling you at the line of scrimmage, you will be a faster and more productive player in the deep half.
Follow me on Twitter: @MattBowen41