August 06, 2010 -
Matt Bowen
The harsh reality of NFL training camps
Training camp in the NFL isn't a walk-through, nor is it a run of the mill OTA practice with players "tagging" off for tackles and coaches telling players to stay off of the ground. That is resort-style living on the NFL calendar.
This stuff is for real. It is competitive, and the hitting — the physical hitting — is the difference. Two-a-days are a grind for players. The heat, the countless repetition, the late-night meetings, etc. It wears on you and you forget what is going on in the world around you.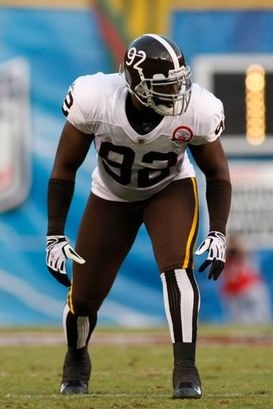 ICONDumervil, who just signed a new contract, is now on the shelf.
And when you constantly hit, wrap up ball carriers and go through practice experiencing violent collisions, players go down — hard. The speed of the game increases. These practices are fast and players have no choice but to go full speed to stay competitive. Yes, the NFL has changed, and camps are scaled back to prevent injuries and to take the pressure off of daily helmet-to-helmet collisions, but we still see big names go on the shelf. And, that isn't going to change.
Cowboys WR Dez Bryant is already down for camp. A promising rookie who will be behind in terms of development and overall understanding of the NFL game by the time the regular season starts because of an ankle injury. Broncos RB Knowshon Moreno is out with a hamstring, and Broncos DE Elvis Dumervil — who just signed a new deal with $43 million guaranteed — went down with what should be a season-ending injury when he tore a pectoral muscle.
A lot of money for a player that isn't going to be on the field this year due to an injury suffered in practice.
And, there are other injuries that have teams and fans holding their breath--waiting for results. Jeremy Maclin and DeSean Jackson in Philly. Percy Harvin in Minnesota. Bring out the cart, and you never know what the MRI is going to show. Hope is king in these situations.
We don't see this in the spring. Maybe a muscle pull or a freak knee injury, but it doesn't compare to the injuries and the overall worn-down bodies of an NFL camp. As a player, you carry around a constant headache for six weeks and know that every time you get taped and drag your body back onto the field for a late afternoon practice in the heat, you might not make it through to the end.
I saw it on Tuesday at Bears camp in Bourbonnais, IL. During a basic team period, a linebacker goes to make a play, and he doesn't get up after the pile clears. Move the drill up ten yards (standard practice in the NFL to keep the pace going), continue the drill and bring out the cart to take him away. But, the point here is this happens everyday around the league. We don't read about the names that aren't the big stars on the team always, but I guarantee that a player is carted off somewhere over the weekend — and maybe even this morning.
Part of this job is about survival and making it through camp without a serious injury (because everyone is somewhat banged up after camp). Being accountable is a major section of your resume when it comes to avoiding injuries. But, in this league, they happen.
And, in training camp, they are a part of the culture of the NFL.
Follow me on Twitter: @MattBowen41
Ready for fantasy football? Click here to purchase the Total Access Pass/ Draft guide from the NFP.