October 21, 2010 -
Matt Bowen
The impact of Clark's injury
Reports surfaced last night from ESPN's Adam Schefter that Colts' TE Dallas Clark is out indefinitely with a hand/wrist injury. A big blow to Indy? Without a doubt, because Clark is the ideal fit for the way the Colts run their base offense and game plan.
We have talked before about Indy and what they do offensively, and even went to the chalkboard to break it down. Nothing flashy. Two personnel groupings: Ace (2 WR, 2 TE, 1 RB) and Posse (3 WR, 1 TE, 1 RB). Outside of the goal line package, this is all you are going to see from a preparation standpoint as a defensive player. Unlike New England or New Orleans, there isn't a wide variety of personnel or formations to prepare for. You know what to expect—but you still have trouble stopping it.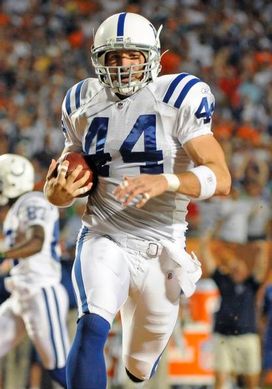 ICONLosing Clark to an injury will have an impact on the Colts' basic schemes.
Think of Indy and the TE position. What routes are you going to see? The deep dig (15-yard square in), the 7 route (flag) the 8 (post) and the seam along with the underneath game (option, smash, slant, hitch, china, etc.) Yes, the Colts will use some pre-snap window dressing (stack look, bunch, reduced splits), but it isn't as complex as we want to make it out to be.
Obviously, having Peyton Manning at the quarterback position is the main reason for the success behind this scheme, but don't let that discount the impact that will be felt without Clark in the lineup.
How many times have we talked about matchup issues at the TE position? It has become a must-have in today's NFL—a TE that can be aligned as a receiver. Gates in San Diego. Gonzalez in Atlanta. Heap in Baltimore. Finley in Green Bay before he went down with an injury. Those are just a few of the bigger names, and Clark is on that list as well.
For the Colts, a player they can use in their double TE sets, removed from the core of the formation as a No.3 WR vs. the base personnel of the defense. Draws the matchup of a SS or FS in Cover1. Can spilt Cover 2 down the inside vertical seam. Great vs. pressure. Forces opposing defenses to bring their nickel sub package out onto the field in early down and distance situations—which opens up the entire playbook of one-back runs. Plus, a player—like the other names above—that is targeted in the red zone (4 verticals, flat-7, quick double-moves).
What does that mean for defenses preparing for Indy moving forward? I would expect to see more Cover 2. Safeties can widen over the top of No.1 without the threat of Clark in the middle of the field. Combination man coverages (Cover 7) where you can double a player such as Reggie Wayne with a corner and a safety. More Cover 1 pressure schemes.
The end result for defenses? More options to work with. And that makes Indy easier to defend. Let's see how this plays out in the AFC South--a divison that is much more competitive in 2010.
Follow me on Twitter: MattBowen41