August 31, 2010 -
Matt Bowen
The impact of Dixon's night in Denver
Going into the Sunday night game in Denver, I was excited to watch Dennis Dixon get some work with the Steelers' first team offense. He does have a sense of excitement when we talk about the QB position in this league. And, from what I have heard, the QB has had a good camp in Pittsburgh.
But, just as I wrote in my game notes yesterday, he struggled against the Broncos. The pick in the red zone is a drive killer and throwing a ball late to the opposite numbers on a curl route won't work in the NFL against veteran secondary talent. Bottom line: poor decision making. Can't have that and win, and definitely can't have that when the head coach is trying to pick a week one starter with Ben Roethlisberger suspended for at least the first four games of the season.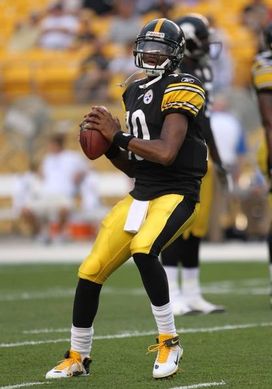 ICONThe Steelers' Dennis Dixon.
Mike Tomlin has yet to make a call publicly on who the No.1 guy will be for next Sunday's opener, but it would be easy to put money on Byron Leftwich right now. Is that too easy? Probably, but in this league, turnovers stand out.
However, it brings up something we should discuss when it comes to QB play. Anytime there is competition under center, coaching staffs take everything into account. As much as we want to compare preseason stats (which never tell the real story), it is much more involved. Every throw in practice is charted, along with how each QB responds to different situations in camp: 7-on-7, blitz period, 11-on-11 team work, etc. One of the main reasons every drill in practice is put on film—to evaluate QBs throughout the entire process. They want to see technique improve from footwork to their reads in the passing tree. Dixon, Leftwich, Charlie Batch and Roethlisberger.
And, in reality, preseason games are just as extension of training camp—only with more on the line. Game situations allow coaches to evaluate how QBs respond to play calling, different defensive looks than they see in practice, pressure and how they handle the pocket. Can they make the basic throws? Can they finish drives? Do they protect the football? There isn't a lot of game planning that goes into a football game in August, and up until this last week, the offense will see very few scout-team looks during practice. It is more about basic fundamentals and controling the offense.
Tomlin has to see positive production, and he didn't get that from Dixon on Sunday. I wanted to see the young QB make the throws, put points on the board and use that athletic ability to create plays down the field. All that work for one big opportunity that didn't play out.
One game to judge a player? No, it goes deeper than that. But, when you are given the chance to see valuable reps in practice or in a preseason game, you have to show up. And, in my opinion, Dixon isn't ready to take over this offense.
Let's see what Tomlin does.
Follow me on Twitter: MattBowen41
Click here to purchase the Total Access Pass/ Fantasy Draft Guide from the NFP.