January 19, 2011 -
Matt Bowen
The NFL's final four: why defense still sells
Defense still sells in the playoffs. As we approach championship weekend in the NFL, I see four defensive units that can win a Super Bowl. We will hear the talk of the QBs (Roethlisberger, Rodgers, Cutler, Sanchez) before Sunday's kickoffs, but the reason the Steelers, Bears, Packers and Jets are still playing football in January is all about defense. Four units that ranked in the top-ten this season looking for that ticket to Dallas and Super Bowl XLV.
Let's take a look at each squad and discuss the main reason they are still alive in the playoffs.
Chicago Bears: front seven play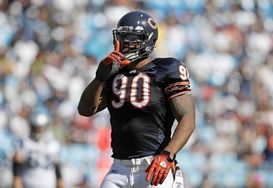 Peppers and the Chicago front seven is legit vs. the run.
One of the top defensive fronts in the game. Under Lovie Smith the Bears' 4-3 look gets penetration up the field, pursues to the football and plays fast. DE Julius Peppers will always be talked about due to his ability to rush the QB, but watching Chicago this season, his play in the run game in crucial. LBs Brian Urlacher and Lance Briggs both are playing at a Pro Bowl level and when you can limit the opponent's rushing production with a seven-man front you are playing top tier defensive football. No one runs the ball on Chicago right now.
Green Bay Packers: elite secondary
Top to bottom, this is the best secondary in the league from my perspective. We know what you get from Charles Woodson: aggressive, dynamic play from the cornerback position. A player with safety size that can align inside, play man coverage and produce edge pressure. Add in Tramon Williams—who is having a career post-season—along with the range of FS Nick Collins and this secondary can win championships. This is the perfect blend of talent and athletic ability for Dom Capers' scheme and there is no doubt that this secondary will compete when the ball is in the air. Can't win a title without good secondary play.
Pittsburgh Steelers: playmakers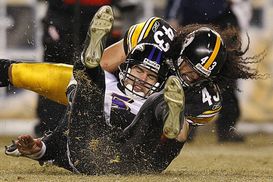 Polamalu is just one of the playmakers for Dick LeBeau's defense in Pittsburgh.
Last week in the win over Baltimore, it was FS Ryan Clark (INT, forced fumble). An underrated safety that understands route concepts, angles to the ball and is a pro when it comes to studying the game. This Sunday? Take your pick at who is going to make that big play. Polamalu, Harrison, Woodley, Ike Taylor, Hampton, etc. Dick LeBeau can get creative and take risk in his play calling because of the playmakers on his side of the ball. Pittsburgh will use those exotic looks to pressure and put their players in a position to produce. If I could coach one defense in the NFL, this would be it. Loaded with talent.
New York Jets: cornerback play
This was on display in the win over the Patriots in Foxborough. You can play Cover 1, drop a "robber" into the middle of the field and keep a free safety deep over the top when you have cornerback play like the Jets. A simple scheme. And that doesn't count the amount of pressure that Rex Ryan can bring when he wants to play Cover 0 (no safety help) because of Darrelle Revis and Antonio Cromartie. Revis is the top cover corner in the league, and although Cromartie can get sloppy with his technique, his natural ability takes over and allows him to make plays on the ball. Tough matchup from an offensive play calling perspective when you have two corners that can line up in both a press and off-man look—and play with production.
Follow me on Twitter: MattBowen41
Want to work in the NFL? Click here to sign up for the NFP's "Chalk Talk" seminar at the Combine in Indianapolis on February 25th.