May 09, 2011 -
Matt Bowen
The rookie QB question
If I am coaching in the NFL, there is no discussion when it comes to playing my high profile rookies. I drafted them to produce, and when training camp opens I am throwing them in with the first unit. Defensive tackles, offensive lineman, wide receivers, defensive backs, etc.
If the owner is going to spend first and second round money on them to wear a uniform, they are going to see the field.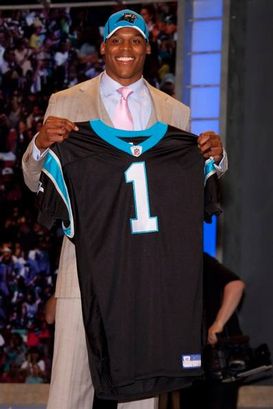 ICONI would put Newton under center on opening day in Carolina.
However, what about the quarterback position? We saw six QBs (Newton, Locker, Ponder, Gabbert, Dalton and Kaepernick) go in the first two rounds of the NFL Draft. Do we expect them to play, to start, to contribute this season?
I have always believed that rookies need to play. The only way to get the experience of pro football is on the field. Meetings, practice, etc. are all a part of the transition to the NFL. I understand that. Get on the practice field, work with your position coach and continue to drill everything: from your footwork to the playbook.
That is part of a rookie's development.
But to truly get the most out of any rookie you have to get them on the field—against the top competition. And that means working on Sundays in the regular season.
Forget August (or what we hope will be the regular pre-season schedule this summer). Those exhibition games are as vanilla as they get in terms of X's and O's. During my career we would go into those games with a game plan of Cover 1, Cover 2 (maybe some Cover 3 sprinkled in), plus a very elementary zone and man pressure scheme. Line up and play—and let the coaching staff grade the tape.
These rookie QBs won't see the exotic blitz schemes of a Gregg Williams in New Orleans or a Rex Ryan in New York. Plus, what about their own game plan? Basic and simple. Slant-Flat, Smash-7, etc. Hand the ball off and carry out the fake.
Instead, maybe coaches need to throw these young QBs directly into the fire in Carolina, Tennessee, Minnesota and Cincinnati. It sounds easy to talk about bringing in a veteran (such as a Marc Bulger) to run the offense for a year while they sit on the sidelines in a visor, holding a clip board and a bag of sunflower seeds. That is the standard plan for most first-year single callers in this league.
Why? Because they will make mistakes and they will also throw interceptions. And, well, look completely lost at times. However, nothing can compare to playing in true game situations at the position. Once we get to free agency (my bet is in early July), we will find out if these clubs will stick with the rookie QB for 2011.
My take? Let it ride with the rookie—and take your lumps on the field. There will be rough, rough Sunday afternoons for sure, but how else are you going to get your high priced young QB NFL ready?
What do you think? Let me know.
Follow me on Twitter: MattBowen41