April 26, 2011 -
Matt Bowen
The rookie's guide to the NFL Draft
With the 2011 NFL Draft only days away in New York City, here is my guideline for rookie prospects. What to look for, what to expect and how to handle the stress of the moment—because I was in this exact situation during the 2000 draft.
1. Be realistic: Unless you are Patrick Peterson or Von Miller (along with a select few other top prospects), don't over-hype your own draft stock. If you are told that you will be a second round pick, don't go crazy if you are still on the board in the third—or even fourth round. The draft isn't scripted and if your agent, friends or parents think you are a first round pick—you probably aren't. My experience? I thought (or hoped) that I would be a first day guy (rounds 1-3 at that time), but I waited until the afternoon on Sunday to hear my name called. Forget draft rumors, projections, etc. Because the NFL will decide where you stack up in terms of talent this weekend.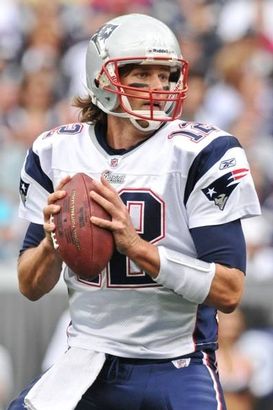 ICONBrady was on the board until pick No.199 in the 2000 NFL Draft.
2. The draft doesn't forecast the future: There will be plenty of first round picks this Thursday night that will wash out of the NFL in the next three years. That is going to happen. And there will also be multiple players (late picks) that end up having productive careers. Don't worry about the number next to your name, because where you are drafted doesn't guarantee you success in the NFL. All it does is get your foot in the door. And as I wrote on Monday in the Chicago Tribune, I went in the 6th round to the Rams at No.198. The pick right after me at No.199? QB Tom Brady to the Patriots. He turned out to be a pretty solid pro.
3. Don't get jealous: A major, major flaw I had sitting in my parent's living room on draft weekend. You want to believe that you are better—or more talented—than every player drafted before you. Look, everyone wants to be one of the first round picks that walks across the stage in the hand picked suits from the power agents. However, there are only 32 picks in the first round. The money? If you can play and produce in the NFL, you will eventually get paid.
4. Be prepared for anything: I got two phone calls—from two different teams—at the start of the fourth round of the 2000 draft. Both clubs told me to expect a phone call from the head coach, as I was the top player on their draft board. The only problem? Those calls never came. I remember thinking that I was going to be an early 4th round pick, but instead I started looking for a place to vomit.
5. Don't panic: Easy to say, but even some projected top tier players—such as Green Bay's Aaron Rodgers—had to sit and wait. Once the fifth round started during the 2000 draft I started to panic. Why am I still on the board? Do I need to buy a new suit for job interviews in the real world? How do I write a resume? All of those thoughts will creep into your head (along with the idea that your career could be finished), but you have to find a way to ride it out. It is going to be stressful and if you saw the "Brady 6" on ESPN, it is almost impossible to contain your emotions.
6. Get ready to work: Maybe the most important aspect to take note of. The reason you were just drafted is to upgrade the roster—and take a veteran's job. When training camp (eventually) starts, vets will come after you and treat you like a rook. And we all know how many busts there have been in the NFL draft. Continue to train and be ready to play your best football. And be prepared to work and act like a professional athlete. Because that is what you now are. You haven't "made it" once you are drafted. Instead, it is just the beginning—and you have a lot to prove on Sundays.
Click here to check out the NFP-Comcast Sports Net Mock Draft videos.
Follow me on Twitter: MattBowen41