January 09, 2012 -
Matt Bowen
The Xs and Os of Tebow's TD run vs. the Steelers
Click here for the entire Inside the Playbook series.
There has been plenty of talk on Tim Tebow's ability to produce vs. the Steelers' secondary in the Broncos' 29-23 Wild Card win on Sunday. The QB thew the 9 (fade) route, worked the double-move and added in some play action. 316-yards and 2 TDs vs. the NFL's No.1 defense.
However, I want to breakdown Tebow's TD run on the QB (Power) Draw in the red zone. An opportunity to for us to talk personnel, alignment and scheme with creative play calling.
Steelers vs. Broncos
Personnel: Posse Empty (3 WR, 1 TE, 1 RB)
Play call: QB Draw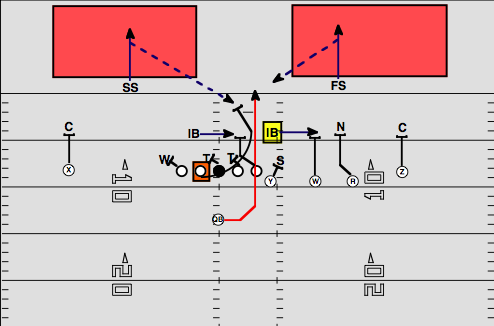 Coaching points…
1. Personnel and Alignment: We see empty sets (no back in the backfield) every Sunday in the NFL, but look at the alignment here from Denver. A 4x1 set to the field. From a defensive perspective, this is a formation that tells you to alert the WR (bubble) screen inside of the 10-yard line.
2. Blocking scheme: This is no different than the "Power O" scheme. Kick out the Sam backer (S) with the TE (Y), block down with the tackle and pull the backside guard (highlighted in orange) up through the hole. Create running room for the QB in what is now a downhill power scheme.
3. Steelers' adjustments to the pre-snap alignment: The left inside linebacker (highlighted in yellow) will react to Tebow's initial action in the pocket (pump to WR screen). That takes them out of the run front and allows both the Broncos' front side tackle and backside guard to work up to the second level of the defense. I talk about "eyes" all of the time when breaking down defensive football and this is another example. Don't read the QB. Instead, focus on your run/pass keys.
4. Safety run support: The Steelers are in a 2-deep shell. As a safety aligned in Cover 2, you are considered a "secondary run support" player. Fill the "alley" (between tackle and WR) on any edge run and play cutback vs. an inside scheme. Both Troy Polamalu (SS) and Ryan Mundy (FS) come downhill to attack Tebow, but this isn't their play to make on the goal line.
Give some credit here to Broncos' offensive coordinator Mike McCoy for dressing up a basic QB Draw by formation and alignment to give the Steelers a false read at the line of scrimmage. Smart play calling inside of the red zone that produced points.
Follow me on Twitter: @MattBowen41