November 29, 2011 -
Matt Bowen
The Xs and Os of the Packers' sprint game
Click here for the entire Inside the Playbook series.
Let's go back to Thanksgiving Day in Detroit and talk about the sprint game vs. defensive pressure. A low risk call inside of the 5-yard line vs. secondaries that will play some form of man-coverage (Cover 1, Cover 0, Under 10, etc). Move the QB out of the pocket and run the Flat-7 (corner) combo to the field (opposite the far hash).
A quick set up. The Packers have their "Kings" personnel (4 WRs, 1 TE) on the field in a 3x2 alignment (empty set) vs. the Lions' sub-package playing Cover 0 in the secondary (blitz-man, no safety help).
Before we get into some coaching points, check out the route concepts drawn in from Green Bay's pre-snap alignment.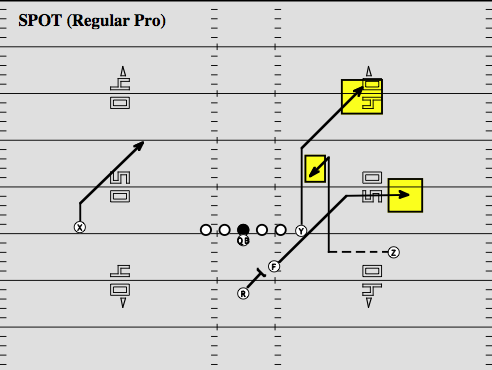 - Why the Flat-7 combo? Out in the field, you might see the Flat-Curl concept with the sprint game. But down inside of the 10-yard line, this gives the QB two outside breaking routes working away from any help back to the middle of the field. And vs. Cover 0, both routes break away from the defenders playing with an isndie shade.
- The sprint game vs. pressure is key, because it allows the off-set RB (or TE in this situation) to seal any contain rush off the edge. Move the pocket away from A and B gap pressure and create a clear throwing lane for the QB.
- The release of Jordy Nelson. The Packers' WR will take a hard, inside stem to create room to run the 7 route from an alignment outside of the numbers, however the Packers want to create a "pick situation." Force the inside DB to "bubble" over the top of Nelson and lose leverage on Jennings breaking to the flat.
- The Lions are beat before the ball is even snapped. Check out the alignment of the DBs. You never want to see two players from the secondary aligned at the same level when man-coverage is called in the huddle. Look up top: press-man to the inside with an off-man look over the top of No.1. You must play at different levels to avoid the pick situation we just talked about.
The end result is what you should expect from this Packers' offense when they scheme concepts to beat the defense. Throw in the poor alignment from the Detroit secondary (along with the inside stem of Nelson) and this is a throw Rodgers can make all day for six points.
Follow me on Twitter: @MattBowen41