December 09, 2011 -
Matt Bowen
The Xs and Os of the Steelers' red zone playbook
Click here for the entire Inside the Playbook series.
On Thursday morning, I broke down three NFL route concepts in the red zone using playbooks from the Packers, Saints and Cowboys to illustrate what we are seeing around the league on Sundays.
Today, let's go back to last night's Browns-Steelers matchup, talk more red zone football and look at Pittsburgh's "Hi-Lo Crossers" route combination that led to a Jerricho Cotchery TD reception. Check out the scheme from the Steelers' pre-snap alignment and then we will get into some coaching points to break down it down.
Browns vs. Steelers
Personnel and Alignment: Posse Bunch (3 WR, 1 TE, 1 RB)
Route: Hi-Lo Crossers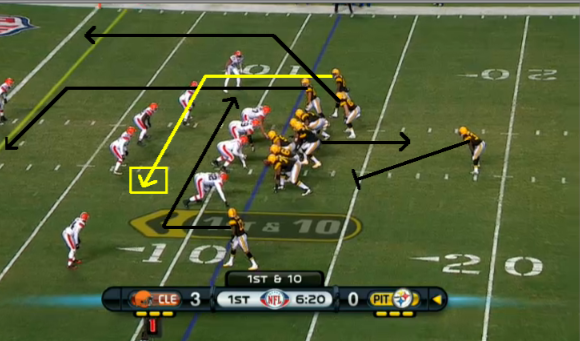 Quick coaching points:
1. WR Splits/ Alignments: Check out the split of the X receiver, Mike Wallace, to the open (weak) side of the formation. This is called a reduced split (on top of the numbers with the ball on the near hash). With a bunch formation to the closed (strong) side of the formation, this has to tell you as a defensive back to expect inside breaking routes—before the ball is even snapped.
2. Hi-Lo concepts: Where do we see this route combination? It is a scheme that every NFL offense carries in their game plan, but next time you watch the Eagles or Bears play, you will see it run consistently. A concept designed to beat man-coverage (receivers work away from defender's leverage) and to target underneath holes in the zone. Get the ball to you receivers with open space to work with.
3. Added window dressing: Offensive coordinators won't align in the same personnel or formation because of tape study. Give the defense a new look and run the same concepts. With the bunch formation, the Steelers can add in the "wheel" route from TE Heath Miller and still work the Hi-Lo concept inside of the numbers.
4. Why it resulted in a TD: The Browns are playing 2-deep coverage. WR Jerricho Cotchery can work back across the field to the open side of the formation and sit down in a vacated hole in the zone. With Roethlisberger able to step up in the pocket, this is an easy throw to a receiver that now has a clear lane to the end zone.
Roethlisberger's ability to come back and play with some pain after an ankle injury is going to lead the discussion today from this game. And we can't forget the back-shoulder fade the QB threw to WR Antonio Brown to close out Cleveland last night. But don't forget about the Xs and Os and why the Steelers were able to produce in the red zone.
Follow me on Twitter: @MattBowen41