May 22, 2012 -
Matt Bowen
Think 'Ace' personnel with Kellen Winslow in Seattle
Now that Kellen Winslow has landed in Seattle via a trade with Tampa, let's take a minute here to talk about how the TE fits in the offensive game plan for the Seahawks.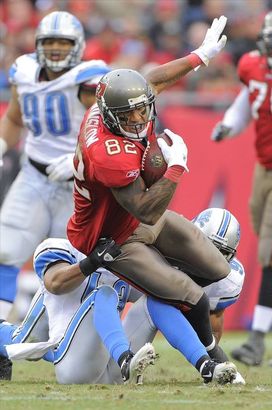 ICONThe Seahawks could have some options with Winslow when they bring "Ace" personnel on the field.
One interesting stat brought up today by Doug Farrar of Yahoo! Sports is the amount of time the Seahawks bring their "Ace" personnel (2 WR, 2 TE, 1 RB) on the field (39%). That's a big number and its something to look at when we talk route schemes and alignments with Winslow.
As Farrar points out, Zach Miller is the "Y" TE in this offense (TE that is attached to the core of the formation). The point man for the "Power O" running scheme (down block) and the TE that predominantly aligns to the closed (or strong) side of the formation.
Where does that leave Winslow? We can call him an "H Back," or as I like to say, the "move TE" (labeled the "U" TE in the playbook).
With Ace personnel on the field, the Seahawks can align Winslow as the open (or weak) side TE in a 2x2 set, as a wing to the closed side to create an inside stack, removed from the core as a slot receiver (both closed and open) or as the "X" receiver to the backside of a 3x1 set (think slant, fade, one-on-one matchup here).
Plus, it forces the defense to make adjustments to their personnel and scheme. Do you walk a SS down on Winslow in Cover 1 when he is removed from the core of the formation with your base defense on the field? Or are you forced to bring in your sub package to use a nickel corner in coverage?
Remember, you can use "Ace" personnel in terms of alignments and formations just as you would with "Posse" (3 WR, 1 TE, 1 RB) on the field. This gives you options when you have a TE like Winslow that has the ability to run routes, create leverage and win vs. man-coverage.
I understand we haven't even hit the Memorial Day holiday and the deal just went down last night. However, when we break down what Pete Carroll's club can do with Winslow (if he stays healthy), this will impact how teams have to prep for the Seattle offense.
Follow me on Twitter: @MattBowen41