April 27, 2011 -
Matt Bowen
Three draft prospects I would love to coach
When watching tape this offseason, I often found myself looking at draft prospects through the eyes of a coach. I did it during the NFL season every Sunday and even when I check out high school games here in Chicago. It gives me a different perspective on the game and the talent on the field. Another reason I was detailed in my own film study as a player in the NFL.
In terms of the 2011 NFL draft class, here are three first round prospects that I would love the opportunity to coach.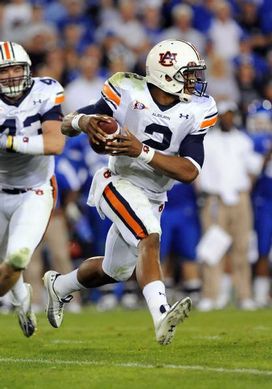 ICONNewton will take time to develop, but the talent level is what you want as a coach.
Cam Newton, QB, Auburn: Very unique talent here with Newton. Plus, there is real opportunity to teach at the position. With the former Heisman Trophy winner, you need a dedicated coach that will commit the time and plenty of patience to develop those talents at the pro level. Footwork, eyes, route concepts, coverage reads, etc. That all has to be broken down and built up with the potential No.1 overall pick. And as a coach, I have no issue taking on the challenge of developing the QB under center because the skill set is there. However, think of what you could script with Newton in the huddle in terms of personnel groupings, formation alignments and creative play calling as a rookie. He gives you options because of the talent he brings to the field. Without question it is going to take time on the practice field and in the film room with Newton. But we are also talking about a prospect that took over the SEC conference this past season. And if my club drafts him, I can't wait for him to get into town—so we can get to work.
Jimmy Smith, CB, Colorado: A 6-2 CB with 4.4 speed and length. That is a DB coach's dream when we break down the measurables at the position. In watching tape on Smith, I do see him as a first round talent, but with any DB there has to be attention to detail at the NFL level. The prospect has to improve and develop the traits of a CB that can consistently produce and win outside the numbers on Sundays. With Smith, you already have the size, speed and ability to play press-man. That is a bonus. Now, I want to work on his ability to open his hips and run vs. NFL WRs and drive to the ball in off-man coverage. Plus, don't forget about tackling in the secondary. If Smith is going to play for me, he is going to be physical and support the run or he won't see the field. He will need to be pushed, act like a pro and show up ready to work. And the right cocach can get that done.
Gabe Carimi, OT, Wisconsin: I will be honest and upfront here, because Carimi is my favorite prospect in the entire draft. I love his physical style in the run game and I saw a player down in Mobile at the Senior Bowl that displayed top talent at the position. His attitude? I want my O-Lineman to be brash, confident and nasty up front. That sells on Sundays. On the field, I am going to coach him to use his hands as weapons, improve his drops against speed off of the edge and continue to drill him to finish blocks in the run game. The type of prospect you put on the 7-man sled every day in practice—just because you love to see him punish it. I do believe we are talking about a player that will improve and take his game to a new level in the NFL. Now I want to see that daily development from a coaching perspective.
Follow me on Twitter: MattBowen41