August 04, 2012 -
Matt Bowen
Three keys to developing rookie WRs
Click here for the entire Inside the Playbook series.
Click here for my guide to watching DB vs. WR 1-on-1 drills.
At Bears camp on Thursday, rookie WR Alshon Jeffery ran a curl route and veteran CB Tim Jennings was in his back pocket throughout the play. The result: Jennings sat on the route, broke on the throw and got a hand on the ball. Seeing that, I started thinking about the top skills—or techniques—rookie wide outs need to develop in order to produce early in their careers. Here are my top three...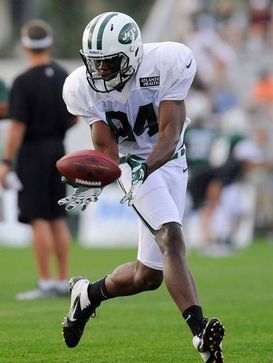 Jets rookie WR Stephen Hill.
1. Defeating press-coverage: A rolled up CB in Cover 2 or a DB playing press-man is taught to punch with their hands, mirror the release and re-route the WR at the line of scrimmage. Rookies have to develop the ability to win with lateral movement on the release and use their hands as weapons. Be physical; chop down on the arm of the DB, etc. Rooks that open up their chest at the line will have a hard time just getting into the stem. Win with your feet and upper body technique when facing press-coverage vs. a veteran—because they are going to attack at the snap. Bottom line: if you get beat up on the release, you won't see the ball.
2. Creating separation vs. veteran DBs: You will hear the term "route running ability" often as it applies to rookie wide outs, but I'm more concerned with their footwork (and technique) at the top of the stem. This is where you create separation vs. veteran DBs. Think of the comeback or the deep inside curl. Unless you can push that DB up the field vertically, force him to open his hips and take a sharp, clean angle back to the ball, you are in trouble. Same goes for the deep dig, post, etc. Understand that veteran players in the secondary will sit on the hip of a WR if they don't buy the initial vertical stem off the line of scrimmage. Yes, "route running" is a skill these rookies need to develop, but creating separation is key to making plays in this league.
3. Reading coverages: If the defense is showing a single high safety and then rolls to a two-deep look at the snap, do you have to adjust the route? This takes plenty of reps (and film study) to get a feel for how to run routes based off the defensive look. And that takes a big jump forward when the regular season starts and game planning begins. Right now, these rookie wide receivers are seeing basic packages on defense, but that changes when the games count. Pro secondaries will hold their pre-snap alignment to the last second and wide outs have to adjust on the fly. That's tough for any rookie learning a new playbook.
Follow me on Twitter: @MattBowen41