June 20, 2011 -
Matt Bowen
Tiki Barber and the Steelers?
How about Tiki Barber playing this season in Pittsburgh for Mike Tomlin's club? Does it make sense or are we looking at a situation that won't play out for the former Giants RB?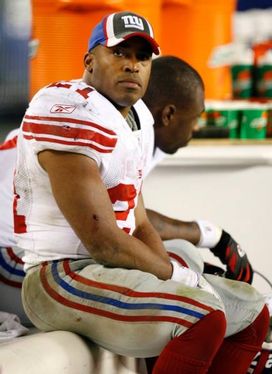 ICONCould we see Tiki Barber return to football in Pittsburgh this season?
Today, in his Monday Morning Quarterback column at SI.com, Peter King writes, "My educated guess, and maybe a little more than that, is Pittsburgh will be Tiki Barber's landing spot this summer when he tries to return to football after four seasons away."
From my perspective as a former player, I want to see Tiki in camp before I make any predictions on what he can provide to a NFL club in 2011. If that goes down in Pittsburgh as King writes or any other two-a-day session in August isn't my angle here—because someone will give him a look.
Instead, what I want to see is a player that has been out of football for the past four seasons put pads on everyday, compete in camp and play the role of a backup.
When Barber announced back in March that he would file papers to get back into the league, I wrote up a post here at the NFP with some questions I had. Talent level, special teams production, physical conditioning, etc. Pretty basic issues that surround Barber, but real issues that need to be addressed when he does get into a NFL camp.
Does that happen in Pittsburgh? King presents some reasoning behind the idea of the RB wearing a Steelers uniform this summer, including the veteran locker room, the relationship of the head coach and the Barber family, Tiki's desire to play for the organization, plus the idea that Tomlin wouldn't have an issue with cutting him loose.
But where he ends up is only the start. Because Barber will have to prove to a new club, coach and owner that he can take hits, play in a reduced role and produce when he does get his opportunities in the backfield.
And fight for a roster spot like every other backup on the team.
Follow me on Twitter: MattBowen41