November 24, 2011 -
Matt Bowen
Time for Goodell to shut down Ndamukong Suh
I played for coaches in my career that preached and drilled a physical brand of football. Tackle hard, push the envelope and put that style on tape for the entire league to see.
Call it "controlled violence" if you want to. And, at times, it could get nasty.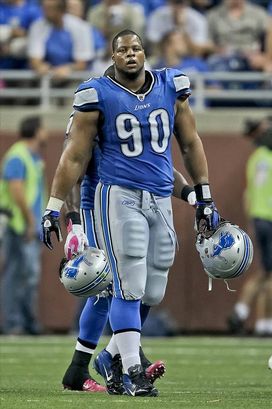 ICONIts time for Rodger Goodell and the league office to hand out a suspension to Detroit's Ndamukong Suh.
That's pro football from a defensive perspective.
However, what we saw today from Ndamukong Suh in the Packers' 27-15 win over the Lions isn't taught in the NFL or at any level of football.
Instead, we watched Suh kick the Packers' Evan Dietrich-Smith. A defenseless player laying on the ground. And let's not forget this went down after Suh slammed Dietrich-Smith's head in the turf a couple of times.
Dirty? No question. Unprofessional? You bet.
The way I see it, that is flat out embarrassing move from a guy who has been fighting a reputation as a "dirty player" since he came into the league.
Suh deserved to get tossed and there is no reason to argue that.
Up until today, I've tried to look past Suh's garbage. I really have. You see the talent—the Pro Bowl talent—and convince yourself that he isn't a dirty player. A guy that plays through the whistle at times, but not a player you single out for what he brings to the stadium on Sundays.
I can't do that anymore—and the league office shouldn't either.
Even if Suh didn't have the past history of questionable moves on the field, it is still time for Roger Goodell to shut him down for a while.
Make an example of the DT and discipline him with a suspension.
If this league wants to take money from defensive players who duck their head just before contact (and happen to lead with the crown of their helmet), then this is a situation that requires the league to speak up.
Sit him down, take his money and show him this style of play isn't a part of the NFL.
How would you handle it? Let me know…
Follow me on Twitter: @MattBowen41