August 15, 2011 -
Matt Bowen
Time for John Beck to show up this week
You think this is a big week for Redskins QB John Beck? It should be, considering he watched from the sidelines this past weekend as Rex Grossman threw for 207-yards and a TD on 19-26 passing—solid numbers for a preseason game.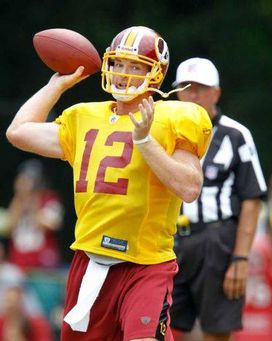 After sitting out the 'Skins preseason opener, Beck needs to show some production vs. Indy this Friday night.
And when you are in a competition for a job at the QB position, every snap counts. From situational drills in practice (7-on-7, blitz period, 2-min, etc.) to the live game action, it is all on tape for the coaches to grade.
However, Beck is going to get an opportunity this week after missing time due to injury. He worked with the first unit in the second half practice on Monday (via John Keim of the Washington Examiner), and speculation exists that he will get the ball to start Friday night vs. Indianapolis.
That should be an easy decision for Mike Shanahan. If you want to have a "true competition," you must see Beck work with the first team in game situations. Give him the start and the opportunity to showcase his abilities vs. starting NFL talent.
And looking ahead to Friday, Beck should know exactly what to expect from the Indianapolis defense. A heavy dose of Cover 2, some Cover 3, Cover 1 (man-to-man) and base zone blitz concepts.
This isn't going to be a complex scheme he is working against and the route concepts (Flat-7, 999, Dagger, etc.) are standard throughout the league when playing vs. a core Tampa 2 defense.
But the production has to be there. Grossman put in his work vs. Pittsburgh already, and if I am coaching the 'Skins, I need to see Beck play at a high level on Friday. Because we are already in mid-August, and depth charts need to be set eventually.
Let's see how Beck responds, because after an offseason of talk (and some hype), its time for the QB to show it on the field. That's NFL football.
Follow me on Twitter: MattBowen41