December 02, 2011 -
Matt Bowen
Time for Martz to help out Caleb Hanie
After the Week 12 loss in Oakland, it is time for Bears' offensive coordinator Mike Martz to script a game plan that is going to put his QB, Caleb Hanie, in favorable situations where he can produce.
Safe, efficient play calling that features the run game and quick, easy reads for the No.2 QB. Here are three keys Martz can lean on this Sunday when the Chiefs come to Soldier Field, because Jay Cutler isn't coming back anytime soon.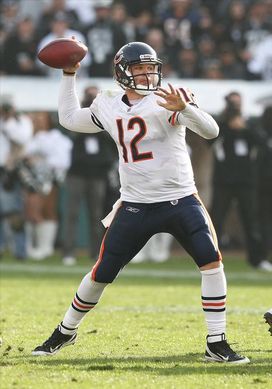 ICONMike Martz can put Hanie in situations where he can be a productive QB.
1. Win on early down and distance situations: A third and 8-plus situation with Cutler under center? Throw the ball down the field and take some risk. However, that changes when you have an inexperienced player taking the snaps. The playbook is going to shrink dramatically when you get into third and long situations. It is crucial for the Bears to win up front, use the 2-back power running game with Marion Barber and get Matt Forte involved. And the play calling has to represent that, because Hanie will have options. Think of the 3-step pasing game, boot and combination routes that get the ball out quickly. Don't put him in a situation where Hanie has to force the ball to convert or the turnovers will show up again.
2. Use the Tight End: Bears' TE Kellen Davis isn't a matchup issue for opposing defenses like a Rob Gronkowski, Jimmy Graham or Jermichael Finley. However, he can be an impact player when the Bears have to move the sticks. Think of the Hi-Lo concepts (crossing patterns) that Martz like to go to on third and medium situations or the inside seam route vs. two-deep looks. Middle of the field throws that break back to the QB or target underneath holes in zone coverage. And if Davis can extend a drive or convert in the red zone, this Bears offense will be able to produce some points.
3. Situational play action: Think field position and personnel here. Ball between the 40's? Take a shot to the end zone with WR Johnny Knox and test out the Chiefs' CBs if they want to play press-man. Or, bring you Tank personnel on the field (1 WR, 2 TE, 2 RB) and work the FB to the flat for a quick 10-yards or target Davis on the 7 (corner) route off of run action. Again, this is all based on establishing the running game early and forcing the Chiefs to consistently play with an eight-man front. But when you do that, opportunities will open up for Hanie to make some throws and move this offense down the field.
To beat the Chiefs and continue a push for a wild card spot, Hanie must show some improvement on Sunday. However, getting your QB into game situations where he can produce is Martz's job as a play caller. Let's see what we get from this Bears' offense on Sunday.
Follow me on Twitter: @MattBowen41