November 03, 2010 -
Matt Bowen
Time for Shanahan to speak up on McNabb
If Mike Shanahan doesn't want Donovan McNabb to quarterback his football team, then go ahead make that call. That's the power of being a head coach in the NFL. You get paid big money to decide the fate of your own players.
We can all disagree and have our own opinion on what went down Sunday afternoon in Detroit when Shanahan pulled starter Donovan McNabb for backup Rex Grossman. I think it was a bad move given the situation of the game, the Redskins' 4-3 record at the time and the overall impact it will have on that locker room moving forward.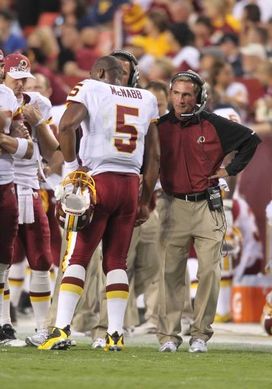 ICONPlenty to talk about in Washington when it comes to McNabb and Shanahan.
But, I'm not the head coach.
I don't sit in on offensive game plan meetings, evaluate practice and spend hours going over game tape. Shanahan does that in Washington. Regardless of the somewhat lame—and odd—explanations for the reason behind benching his starter (from Grossman's performance on the scout team to McNabb's "cardiovascular endurance"), the head coach has to come clean and give his team an answer as to why he pulled his veteran QB.
All of these side show acts going on, including offensive coordinator Kyle Shanahan's comments that McNabb was informed of this situation possibly going down (which were denied by the QB) plus the Tuesday workouts for former first round busts JaMarcus Russell and J.P. Losman, just add to the unwanted drama at Redskins Park right now.
These past couple of days have caused us to forget that the 'Skins are sitting at the break with 4-4 record. Not in the driver's seat, but for sure not out of anything when it comes to the up and down NFC. A half of a season left. Eight games. Use that bye week to make technique changes to the offensive line, do the self-scouting as a player and install a near perfect game plan for when this team gets back on the field.
But, you still need a quarterback—a leader—to make that second half run. Every playoff team I was a part of during my career had that. One guy at the quarterback position that we could look to. Kurt Warner in St. Louis, Brett Favre in Green Bay and Mark Brunnel in Washington. No question who our leader was in the locker room and on the field. Players need that more than you think.
Do the 'Skins have that right now? I don't see it after Sunday.
Bottom line: time for the head coach to come clean. If McNabb--the player Shanahan traded for--isn't his guy, that's fine. Make that call. But have a reason—and an answer for that locker room down in the basement of Redskins Park. Because this isn't good football.
Follow me on Twitter: MattBowen41