October 04, 2011 -
Matt Bowen
Time to buy the Bucs as a contender in the NFC?
Are you buying the Bucs as a real contender?
Last night, I saw a lot of the penalties, a lack of execution (at times) on offense and some poor tackling on the defensive side of the football.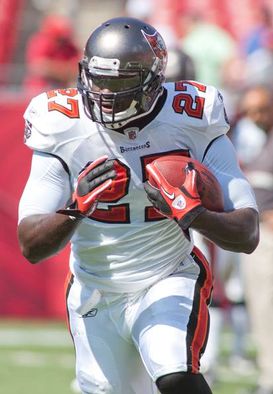 ICONBlount rushed for 127-yards last night in the Bucs' 24-17 win over the Colts.
However, you take a win anyway you can get it in this league. And despite some of the suspect play in the 24-17 win over the Colts, I like this ball club. Here are some of my notes on why I see Raheem Morris' team competing all season long in the NFC.
- LaGarrette Blount and the running game. Base football we are looking at here. Go back to the run that gave the Bucs' the win last night in the fourth quarter. Downhill using the Power O scheme (guard pull, FB kick out) to open up a massive running lane. And if you want to beat the Saints in the NFC South, you must control the clock.
- Freeman. He isn't conventional in the pocket. I get that. But what he can do is extend the play--and that sells from my perspective. Made some questionable decisions last night vs. the Colts' Tampa 2 defense, but he is the type of QB that can make a play for you in the fourth quarter.
- The D-Line. Add Clayborn and Bowers to some talent coming back from last season. The Bucs want to challenge WRs in the secondary, play man-coverage and let their front-four go to work. There is some young talent up front that can get to the QB and win one-on-one matchups.
- Talent at the skill positions on offense. Winslow at the TE position, plus two young receivers on the outside in Mike Williams and Arrelious Benn that can stretch the field. Options for Freeman here in the intermediate-to-deep route tree. And when you can run the ball, there will be opportunities in the vertical passing game.
Follow me on Twitter: MattBowen41