February 07, 2012 -
Matt Bowen
Time to 'copy' the Giants' blueprint for winning?
We know it is a "copy cat" league when talking Sunday game plans and scheme. But looking at how Eli Manning and the Giants worked through the Falcons, Packers, 49ers and then the Patriots to grab the Lombardi trophy, why not try to build a team through personnel similar to Tom Coughlin's 2011 championship club?
Here are the four things you need with the NFL scouting combine kicking off in less than two and half weeks back in Indy.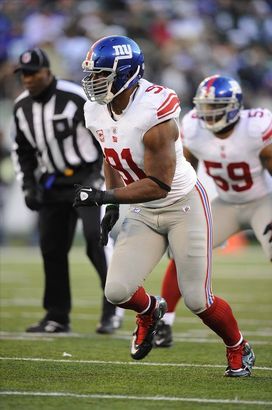 ICONWith Justin Tuck and Giants' talent up front, this defense can play coverage and still pressure the QB.
1. Pass rush: Look at the Giants' talent up front this season: Justin Tuck, Jason Pierre-Paul, Osi Umenyiora, etc. This gives you options as a defensive coordinator and it also covers up some talent issues you may have in the secondary by having the ability to play Cover 2 or 2-Man. Rush four, drop seven and matchup to the spread offenses we see from Green Bay and New England by putting a top on the defense to take away the vertical passing game. A luxury when you don't have to rely on blitz-pressure vs. top tier QBs. Plus, in a year when offense was talked about on a daily basis, it was the New York defense that held Tom Brady and New England scoreless in the 4th quarter of the Super Bowl.
2. Production at QB: Hand the QB the game plan in the fourth quarter and let him go to work. Looking at the draft, there are only two prospects I see as NFL ready to step in as first-year players in Andrew Luck and Robert Griffin III (and with that comes rookie mistakes). However, how about these three names that are going to be looking for work: Peyton Manning, Matt Flynn and Kyle Orton. As a longtime NFL scout told me: "Without a QB, you have no hope." Outside of (a healthy) Peyton Manning, you aren't going to find the skill set of Eli Manning in the draft or free agency, but that doesn't discount the need for real talent at the QB position in today's NFL.
3. A true No.1 WR: The Giants had three playmakers in 2011 when you add in Victor Cruz and Mario Manningham on top of what Hakeem Nicks can do outside of the numbers. And going back to Super Bowl XLVI when the Patriots schemed to take Cruz out of the game, Nicks showed the value of having that "guy" who can win on inside breaking routes and create separation to move the sticks. And don't forget about the matchups a legit WR can create in the red zone when the fade (or back shoulder fade) and the slant route come into play. Look at a team like the Bears with their lack of talent at the WR position. Time to add a real No.1 WR there? I think so.
4. Balance to the game plan: This might be more about play calling, but we still have to view it from a personnel standpoint as well. Talent along the offensive line, plus two backs in Ahmad Bradshaw and Brandon Jacobs. That leads to play action for your QB plus the ability to run the ball in crucial situations (3rd and short, inside of the 5-yard line). I am firm believer that you still have to show some production in the run game to win in December and on the playoff stage in this league. That will never change.
Follow me on Twitter: @MattBowen41