October 09, 2011 -
Matt Bowen
Time to hand the ball to Tebow in Denver?
When I watch QB play, it is easy to get wrapped up in footwork, mechanics, etc. You want to see a pro QB that is polished in the pocket. Brady, Rodgers and Brees. Teaching tape with those players.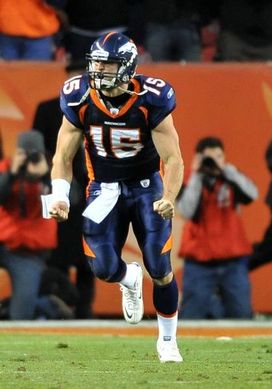 ICONJohn Fox needs to give Tebow the keys to the offense in Denver at the QB position.
We aren't going to get that from Denver's Tim Tebow, but the point here is simple after he took over for Kyle Orton today: offensive production.
Move the sticks, put points on the board and get your team back in the game. He wasn't playing Pro Bowl football here, but putting the ball in the end zone still sells from my perspective.
That's what you want to see as a player on the Broncos' team and on the sidelines as coach. It doesn't have to look perfect (and I played with QBs in my career that weren't pretty at times), but the key here is finding a guy you can put under center the team will play hard for.
I understand how easy it is to look at the box score or watch that game and come down on Tebow here. But I'm taking a different angle, because I watched a QB that had the offense playing at a different level when he was in the game. You can't deny that.
The same unit that played flat and didn't execute under Orton.
But the deeper story here is John Fox's call to pull Orton. Because once you sit the starter, you can't put him back in. That doesn't work in the locker room and it causes unwanted drama that takes the focus off the game plan.
If I am Fox, I give the ball to Tebow once Denver gets back on the field in Week 7 after the bye. Give him the opporutnity to run the offense in practice, go through the game prep and then see what he can do under center.
Let's see how this plays out in Denver...
Follow me on Twitter: MattBowen41