February 09, 2012 -
Matt Bowen
Time to hit the weight room
The NFL offseason is the ideal time for players to heal from the grind of the season and being to develop their bodies for another run the following year. And for players that take their craft (and overall game) seriously, the offseason is the perfect time to develop their bodies before heading back to the team facility for OTAs and mini-camps.
Here is an example of how NFL players will train this offseason.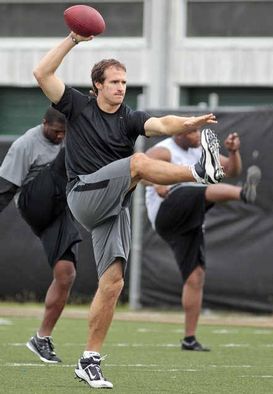 The offseason training programs of NFL players are crucial to their production during the season.
Immediate rest and recovery: Take two to three weeks and shut it down after you turn in your gear. Your body needs adequate time to recover from the amount of hitting you do in the season. Maybe you need to get your knee cleaned out or a scope on ankle, shoulder, etc. Whatever it is, take care of the injuries first before you start to train. With no game to play this Sunday, there is no need for Toradol injections or pain killers at this point of the NFL calendar. Now you can actually give your body the time it needs to heal without masking injuries.
Core strength training: Start by developing your core muscles. During my career, my programs came every offseason from Iowa strength coach Chris Doyle: power cleans, squats, plyo movements, etc. In today's game, there are more alternative methods (such as MMA training), but the goal is the same: build a strong core through functional movements and become a more powerful athlete.
Conditioning: Your conditioning program should crossover between the weight room and the field. High repetitions, longer sets and football movements on the field (don't think treadmills here). Base change of direction drills at the start of your program along with linear conditioning. No reason to put on weight in the offseason and fall behind in your program. Treat the conditioning aspect as a priority.
Speed training: Think linear and lateral speed in the player's offseason training program. Use resistance training; build the power in your legs and work to become a faster athlete. NFL players will train to improve their running form, stride and lateral change of direction skills with speed as the focus.
Competing with the rookies: Why do veterans despise the NFL draft? Because those rookies are coming into the league to take their jobs—and game checks. However, while rookie prospects are training for the combine and pro days (40-yard dash, short shuttle, 3-cone drill, etc.), veterans are training as football players. A big difference when we talk about offseason body development and the main reason rooks struggle to make it through practice in their first mini-camp.
Follow me on Twitter: @MattBowen41