October 01, 2010 -
Matt Bowen
Time to open up the playbook in San Fran
The 49ers made a big change this week when head coach Mike Singletary shook up his offensive coaching staff. Coordinator Jimmy Raye was let go, and quarterback's coach Mike Johnson now takes over the play calling duties on Sundays. The talent? San Fran has it at the key skill positions on offense. But, it is Johnson's job to open up the playbook and find a way to get to put his guys in a position to make plays.
Let's take a look at five players who can benefit from a new game plan in San Francisco.
Alex Smith: The Niners QB is at his best when he is in the gun. You can see it in the two-minute offense. Can use his feet, create plays out of the pocket and keep his eyes down the field. Yes, Smith can throw the 3-step game (slant, hitch, fade, china, etc.) and work the intermediate routes from a 5-step drop, but we are talking about a QB who will make plays when the offense spreads the field. Align in empty, use multiple personnel groupings and design a game plan that caters to your QB. Get creative.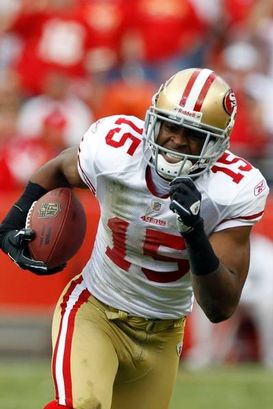 ICONNew coordinator Mike Johnson needs to use Crabtree in the vertical passing game.
Michael Crabtree: Through three games, Crabtree has caught six passes for 81 yards—and no TDs. Not good enough for a player with that amount of talent. Johnson has to script a game plan that has vertical routes—and double-moves—built into the offensive scheme. Any receiver at this level can run a 12-yard curl route, a 10-yard out route and the deep comeback. The Niners want to see some return on that first-round money. Put him in a position to make plays and they will. Show us the player we saw at Texas Tech.
Brain Westbrook: We all can agree that Westbrook isn't going to carry the load for this offense, but he still has value if used in the proper situations. 3rd downs, in the backfield with Frank Gore (called "Pony" personnel with 2 RBs in the game), aligned as a receiver removed from the core of the formation, the screen game, etc. There are ways to get him involved and see production on game day. Still a matchup problem in the open field.
Vernon Davis: Multiple options with the Niners' TE. Davis can align as a standard TE and stretch the field, but why not spread his talents throughout that offensive call sheet? Use him in pre-snap motion, align him in bunch sets, stack looks, as the backside "X" receiver and get that matchup against a safety or a linebacker. There isn't a middle linebacker in the NFL who can consistently run with Davis in a Cover 2 scheme and only a few safeties who can compete with him at the line of scrimmage. We are talking about a TE that has great top end speed.
Frank Gore: The 2-back power game is still crucial to any NFL offense--and that doesn't change when you try and get creative as an offesne. Gore can produce in the entire playbook of downhill runs (Power O, Counter OF, Lead Open, Lead Strong), and catch the ball out of the backfield. He is still the strength of this offense. This allows the Niners to attack defenses in multiple ways. Tough to game plan for a team that can run the ball with production and make plays down the field.
Follow me on Twitter: MattBowen41
Want to work in the NFL? Click here to register for the NFP's "Chalk Talk" seminar in Chicago on October 22nd.