December 03, 2012 -
Matt Bowen
Time to pack up the U-Hauls in Philly
Andy Reid's Eagles used to kick our butts back when I was in Washington. During my first two seasons as a Redskin we sat there as McNabb, Westbrook, Owens and Dawkins routinely beat us up.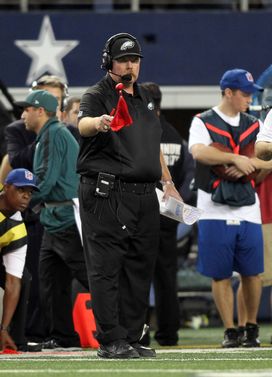 US PRESSWIREThis season has gone downhill quickly for Andy Reid and the Eagles.
As defensive backs, we knew the route schemes, the formations, the alignments, etc. T.O. on the backside of a 3x1 formation? Here comes the slant. But you know what? We still couldn't stop it. And they continued to whip us.
Heck, I looked at them as the class of the NFC East and, well, the NFC in general. That was the type of team I wanted to play for while we were sent back to the train station for the ride home to D.C. after another loss.
But times have changed and Reid's squad is no longer envied.
Just look at the ball game last night down in Dallas. No Vick, Jackson or McCoy? Come on. That Eagles' lineup resembled the second half of a preseason game in late August.
Today, another coach was fired. This time it was Jim Washburn. The D-Line coach reportedly wasn't happy about the team releasing DE Jason Babin last week so it was his turn to take the fall for a miserable season after Juan Castillo did it earlier in the year.
And after this latest episode its about time for the players to pack up the U-Hauls, get ready for the offseason and most likely a new address in 2013.
Will the guys play hard? I hope they do because there is still time to put something on tape so their agents can work the phones when the new coaching staff comes in and cleans out that locker room.
However, these last four weeks will feel like months to the Eagles' players.
Hey, I've been there on a lousy team just playing out the schedule. It stinks. It's no fun. It's dull. It lacks any form of excitement. Actually, it starts to feel like a job when you come to the facility.
No high-fives from the secretaries at the front desk or practice sessions that are up-tempo, fast and constructive. Veterans, well, can start to go through the motions while young players are thrown into game situations to get a taste of pro football for the first time.
Like I said above, it begins to look like the preseason. And when that happens, someone needs to turn off the lights. Because this season and the Eagles' relevance under Reid in the NFC East is over.
Follow me on Twitter: @MattBowen41