December 16, 2010 -
Matt Bowen
Time to question the Ravens' defense?
Ray Lewis and the Ravens' defense failed to close out the Houston Texans in regulation on Monday night. Two 90-plus yard drives (and a two-point conversion) that sent the game into OT. Texans' QB Matt Schaub was making plays out of the pocket, receivers were converting routes to find open holes in the defense, and the Ravens folded to an extent. I saw basic assignment busts in Cover 2 and a unit that looked tired, almost lazy in their technique.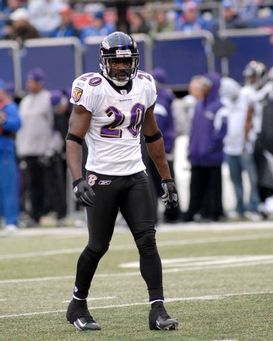 ICONEd Reed and the Ravens' defense has failed to close out games in 2010.
I will admit that I almost turned the game off once the 4th quarter rolled around, because I fully expected this Ravens' defense to shut down Houston and get on the plane with a win that was never in question.
The interception by Josh Wilson in OT to win it? A big time play. Comes off of his own coverage to step in front of the inside option route and take it back for a score. Great vision and a great understanding of the defense. Find a way to make a play to get out of Houston with a win. And I know just how important it is to win these games in December in the middle of the playoff race.
But, what about that fourth quarter or the 80-yard drive that this defense gave up to Matt Ryan and the Falcons earlier in the season? Plus, we can even go back to the Pittsburgh loss. Yes, this defense was put into an adverse situation after Troy Polamalu came off the edge as a free runner and stripped the ball from QB Joe Flacco. But, again, we are talking about a situation where this Ravens' defense routinely shuts the door, holds the offense to a field goal and plays like a top tier unit. That didn't happen.
It is tough for me to buy into panic for a 9-4 team that just won a ball game, but I do see a defense that isn't as dominant as I expected. Yes, the play by Wilson in OT is all that counts when we start talking playoffs at the end of the regular season. But even with Reed's comments about winning ugly at this point of the season, this defense has to get back to playing at a level that causes opposing offenses to adapt their game plans to compete with the Ravens.
I do think Baltimore can make a run through the playoffs—and even knock off Brady and the Patriots—but that only happens if we start seeing a defensive unit that suffocates offenses and closes out ball games.
Follow me on Twitter: MattBowen41