August 17, 2012 -
Matt Bowen
Time to start evaluating T.O.
The evaluation process for Seahwaks WR Terrell Owens and his comeback attempt to the NFL begins for real Saturday night in Denver. With the veteran expected to see some reps (via The Seattle Times), this becomes a legit opportunity for T.O. to show Pete Carroll that he can still play some ball.
Here are my notes on what to focus on when Owens gets on the field: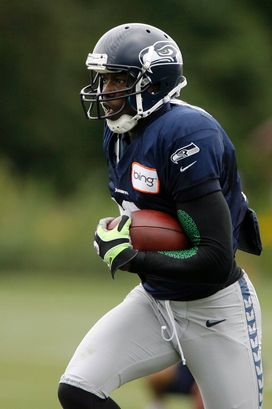 US PRESSWIRET.O. is expected to see playing time Saturday night vs. the Broncos.
- T.O. isn't going to run the entire route tree on one night in August, but check out his footwork when he breaks back to the ball on two basic concepts: the curl and comeback. Is his footwork tight? Any wasted movement? Does he have to chop down early before the break? Or, does he accelerate back to the ball with a clean angle that creates some separation from the DB? Basic route schemes that tell you a lot about technique at the WR position.
-"Cushion" (distance between WR and DB) at the snap of the ball vs. off-man. If you see a CB playing off at 8-yards, can T.O. eat up that cushion and force the corner to transition (open up the hips and run) out of his pedal? You have to press the CB up the field to run any intermediate route.
- I want to see the 9 (fade) route vs. press-man. Two things to look at here: release and vertical speed. Owens has to display some skills at the line of scrimmage vs. press and then win with his top-end speed when the ball is in the air. Basically, I just want to see him run in a game situation.
- The 3-step game (slant, hitch, quick out). Sounds too simple to talk about a WR running a slant route. However, we have to remember that T.O. is looking for a role to make this club. The ability to run the slant (vs. both press and off-man) and win consistently with leverage (think size on inside breaking concepts) is attractive to any NFL offense. That is one of the top "hot reads" vs. pressure.
- I would love to watch T.O. get some reps vs. Broncos' CB Champ Bailey. No different than watching one-on-ones in practice, that is a matchup you want to get on tape. The footwork and recovery speed of Bailey vs. the size of Owens.
- Can he still make plays? That's really the question here. I can talk about routes, releases and technique all day, but Saturday night is more about the chance for Owens to showcase his skill set. Put together a couple big plays and he will get people talking.
Follow me on Twitter: @MattBowen41