February 13, 2012 -
Matt Bowen
Time to start the Michael Floyd debate in Chicago
Its that time of the year on the NFL calendar when we start to talk team needs, upgrades, the 40-yard dash , etc. Target players through free agency and the draft to build your roster with new talent.
In Chicago, that means talk about the WR position. An upgrade to give QB Jay Cutler a real option outside of the numbers.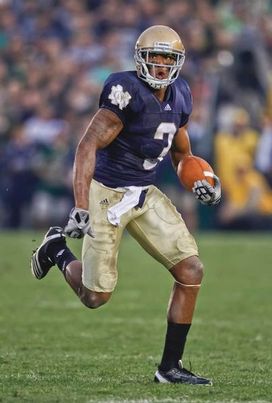 ICONFloyd has first-round talent, but is he a soultion for the Bears if he is on the clock at No.19 this April?
But where do you look for that "upgrade" if you are new GM Phil Emery: free agency or the draft?
On Sunday, I co-hosted some sports radio on 670 The Score with Jason Goff down at the Chicago Auto Show and the callers wanted to talk Bears' football.
And the name that keep coming up? Notre Dame's Michael Floyd.
I know the scouting report on Floyd. He has size, length and can run the inside breaking route tree as well as get on top of a CB's cushion to stretch the field. And down in Indy we will get to see his true measurables at the weigh-ins plus the numbers (40, 3-cone, short shuttle, etc.) from his drill work on the field.
I expect him to grade out as first round talent that could be available at No.19 when the Bears are on the clock.
The question is simple: do you really want to give Cutler a rook? First year WRs are unaccountable (and sometimes soft). That's a situation I saw throughout my career.
Sure, there are those cases where you will see some players such as A.J. Green in the top 10 contribute as rookies. However, for the most part, you don't know what you are going to see.
Can they play hurt, how do they adjust to NFL DBs that play press-coverage for a living (after getting a free release on a consistent basis in college) and can they separate vs. Sunday talent?
It is a different game in this league and that transition period for rookie WRs can take much more time than expected.
The way I see it in Chicago; there is just too much talent in free agency with the vets. With (expected) names such as Vincent Jackson Dwayne Bowe, Marques Colston, Mario Manningham, Reggie Wayne, etc. on the free agent market, get Cutler some experience to work with.
A WR that can walk in to the huddle during the first offseason practice and start running routes. Don't waste more time with Cutler by handing him a rookie that might not be ready to produce on a consistent level in 2012.
Floyd could develop into a legit talent at the NFL level, but I don't know that yet. And in Chicago—where the WR position lacks playmakers—I couldn't risk waiting on a rookie to get up to speed.
You want to beat Green Bay and Detroit in 2012? Then go get a veteran that can play and extend the field in Chicago come September.
Follow me on Twitter: @MattBowen41