August 03, 2011 -
Matt Bowen
Time to write off Tebow already?
The heat that Broncos QB Tim Tebow takes amazes me at times. Less than a week into the 2011 season, you look around the league and everyone is ready to write him off.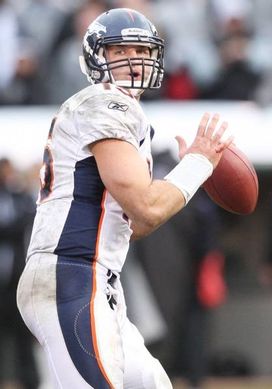 ICONThere are plenty of opinions on Tebow, but have we seen enough to write him off?
I understand that Kyle Orton is the No.1 right now for John Fox and the Broncos. Nothing shocking there. We are talking about a veteran QB with experience that has played for multiple head coaches. He knows the drill. And hearing the reports out of Denver, I wouldn't expect the young QB to be playing at the same level as Orton just yet.
ESPN analyst Merril Hoge got after the Broncos QB this morning on his Twitter account, saying: "It's embarrassing to think the Broncos could win with Tebow!!"
Now, I respect Hoge, because he played the game and watches a ton of tape. He knows NFL football and his opinion carries some weight here.
However, we are a talking about a QB in Tebow that has only started a handful of games, was used in gadget formations early last season by Josh McDaniels and still needs time to develop at this level.
That takes some work, good coaching and experience.
No question that this training camp will be a test for Tebow. That happens when the coach that drafted you is shown the door. Play in this league long enough and you will see new coaches come in, clean out the veteran holdovers and play their "own guys."
I saw it all of the time during my career, and Tebow is now experiencing it for the first time. He isn't going to be given a job because he was a first-round pick or what he did while playing for the Gators down in Florida.
Coach Fox is going to start the QB that gives him the best chance to win. That's what competition is about in this league. And today that QB is Orton.
But let's see what Tebow does throughout this training camp and in the full schedule of preseason games first. Maybe it isn't enough to win the No.1 job this camp, but there is talent there—even if it isn't developing at a rate that fits everyone's demands.
Follow me on Twitter: MattBowen41