November 04, 2010 -
Matt Bowen
Titans make the right call adding Moss
What is the morning take on Randy Moss to the Titans? Like the move? Think maybe he will be a bust? Or, does he shut it down completely in Nashville? Plenty of opinions that we will read and hear until the Titans head down to Miami next Sunday after the bye week.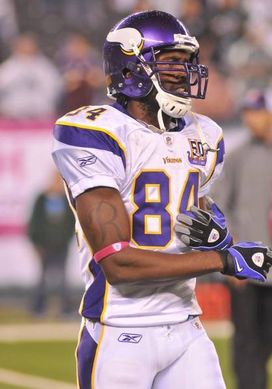 ICONNew Titans' WR Randy Moss can still cause issues for opposing defenses.
But, at 5-3—in a winnable AFC South—I don't see any reason not to call this a solid move by Jeff Fisher and Tennessee. Only eight games left—and a possible playoff run with Kenny Britt on the shelf for a reported for six to eight weeks. Even more reason to add a talent like Moss at the WR position.
Remember, we are talking about talent here, and all of the other news that came out of Minnesota earlier this week will take a back seat if Moss can go on the field and be productive in this offense.
I talked about Moss on Tuesday here at the NFP. No question I would put in a waiver claim on a receiver that can still dictate what opposing defensive coordinators will do when it comes to scripting game plans. Double-moves, the 9 route, post, comeback, etc. Any route that requires a WR to stem his route vertically off of the line of scrimmage, and create separation down the field, is ideal for Moss.
That is the Tennessee offense. Run the ball with Chris Johnson to set up play action, the movement passes (sprint, dash, boot) and the deep ball near the mid-field stripe. Flip that field. And we also have to account for Moss in the red zone route tree: the back-shoulder fade, slant, dig, etc. Moss will need the bye week to learn new terminology and study formation recognition, but come next Sunday he will run the same routes he has his entire career.
What will be crucial is finding a balance with QB Vince Young on the field. Understand when he is going to break routes off and when he is going to convert a simple curl route up the field once Young breaks contain in the pocket. That comes with practice and on the field experience.
Bottom line: the Titans made an upgrade to their roster—and still have two games left against Peyton Manning and the Colts. There will be talk that the former Viking makes Tennessee the favorite to win the division. I can't say that yet, but getting Moss in uniform improves a team that was going to battle for the AFC South even before Brad Childress sent him out the door in Minnesota.
Follow me on Twitter: MattBowen41