August 17, 2011 -
Matt Bowen
Trade Asante Samuel? That's not smart football
I don't think there is a deal out there that would make me give up Asante Samuel in Philly. Forget future draft picks that I could get in return, because I know how valuable the CB position is to winning the NFC East and making a playoff run.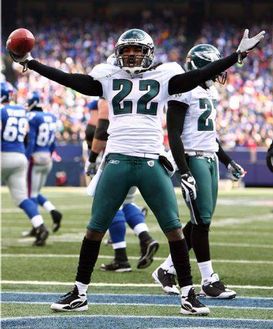 Samuel still provides value to the Eagles secondary that isn't easy to replace.
We tend to believe that with Nnamdi Asomugha in town, along with Dominique Rodgers-Cromartie, the veteran is expendable. However, look at the NFL offenses in the NFC alone: New Orleans, Dallas, Green Bay, etc. You need three CBs in your game plan to matchup on Sundays from a coverage aspect.
Plus, keeping Samuel on the roster allows new defensive coordinator Juan Castillo to get a little creative with Asomugha. Move him inside over the slot, in the box or as an edge rusher. Think of what we see from Charles Woodson in Dom Capers' defense up in Green Bay.
That only happens when you can trust your CBs outside of the numbers to win in both man and zone situations. And it gives you the ability to pressure from a play calling perspective—forcing the ball to come out quickly.
I'm sure there are teams that would make a play for Samuel. He isn't the most physical player on the field, but he can win in one-on-one coverage situations. That's a seller in today's NFL.
But a future draft pick (that might never develop in the NFL) isn't worth giving up a key member of a secondary that is going to be asked to play top-tier football in Philly this season. And you can never have too many DBs that can play.
Follow me on Twitter: MattBowen41