June 05, 2012 -
Matt Bowen
Trade Mike Jenkins?
Should the Cowboys listen to trade offers for Mike Jenkins as training camp approaches? I wouldn't do it, because giving away depth in the secondary will get you in trouble in today's game. The way I see it, you need three safeties that can align at both free and strong (plus contribute on special teams) and four (or five) corners in uniform on Sundays to fill multiple roles in your defensive sub packages.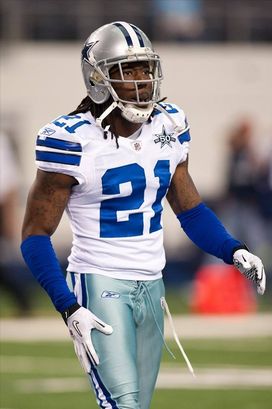 ICONTrading away Jenkins would impact the overall depth and sub packages in the Dallas secondary.
Dallas went out and scooped up Brandon Carr in free agency and also made a big trade on the opening night of the draft to move up and take LSU CB Morris Claiborne off the board. Smart moves when you break down what the Cowboys want to do from a defensive game plan perspective under Rob Ryan. Pressure, attack the QB and rely on your DBs to play man-coverage.
We should expect Carr and Claiborne to receive multiple opportunities to start on opening day. That's how the league works when you look at the investment the Cowboys made in both players. But don't let that discount the impact Jenkins can still have on the season as a nickel corner.
Think of it this way: the No.3 corner in the NFL (if Jenkins earns that job) is a starter from my perspective. Offensive personnel groupings such as Posse (3 WR, 1 TE, 1 RB), Jet (4 WR, 1 TE) and Ace (2 WR, 2 TE, 1 RB) are countered with nickel and dime defense. Bring that third (and fourth) corner on the field to matchup to a No.3/No.4 WR or a TE removed from the core of the formation (backside of 3x1, slot, etc).
Plus, we don't know how this season is going to play out. The depth chart in June (or training camp for that matter) never holds true. I played in enough secondaries in my career to know that what is written on the depth during camp always changes throughout the season. Injuries, lack of production, game plans, etc. They all play a role in determining who is on the field on Sundays throughout the regular season.
Maybe the Cowboys create a market for Jenkins and move the veteran before camp even starts. That could happen if the offer is right. However, I would have a real hard time dumping a quality player in the secondary with the NFC East schedule coming up. CBs that can play man-coverage are much too valuable in my book to trade away if you want to win and survive in this league.
Follow me on Twitter: @MattBowen41