May 07, 2012 -
Matt Bowen
Two techniques rookie WRs must develop
For rookie WRs, it can be a struggle to transition to the NFL game. Gone are the basic zone looks, free releases off the line of scrimmage and CBs that play with a soft cushion to avoid giving up the deep ball. And when I look at receivers coming into the league, there are two techniques that need to be developed: route running and the ability to defeat press coverage.
Route running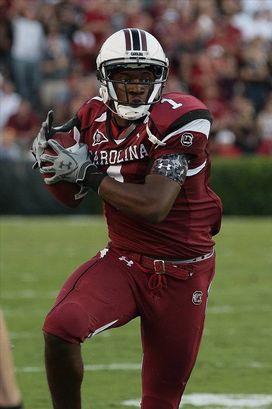 ICONAlshon Jeffery and the rest of the rookie class must develop their route running skills this offseason.
Don't let a rookie WR tell you they can run the entire route tree at NFL speed. That's not the truth—yet. Turn on the tape and take a look at Michael Floyd, Justin Blackmon, Kendall Wright, etc., but focus on their technique. They will round their cuts, get away with some sloppy footwork at times and rely on their natural athletic ability to win. That works on Saturdays, but it won't fly in the pro game.
To beat NFL corners, these rookies need to develop their release and improve their break at the top of the stem. You want to see WRs run through their cuts (thus avoiding slow, choppy footwork) and show speed out of the break. That is how you create separation vs. pro DBs.
Remember, NFL secondaries are loaded with 4.4 40 guys. And the veterans that may have lost a step play with elite technique throughout the stem. They will be in the back pocket of WRs when they break on the dig, the out, the 7 (corner), etc. And you can't just run by NFL talent with straight linear speed. That's not good enough. Grab a QB, or equipment guy or the mailman if you have to. Get someone to throw you the ball everyday and practice the route tree.
Defeating press-coverage
Unless you drafted a rookie that played against LSU or Alabama every week, there is a good chance he has very little experience vs. legitimate press-man technique. That's a problem vs. pressure-based defenses and Cover 2 schemes (think rolled up CB with initial jam at the line of scrimmage).
Rooks are accustomed to CBs playing off-man because they are nervous of the speed outside of the numbers. Not on Sundays. NFL corners are physical, strong with their hands and will beat up rookie WRs that play with lazy technique at the line of scrimmage.
WRs have to develop their lateral movement at the line to get into the route stem and must learn how to be technicians with their hands. This is tough on rookies that have a big frame as corners will get under their pads, slow the release and kill the route. And if you can't get off of press, well, you won't play. It can be that simple. Rookies should beg veteran DBs to come out on the field and push them around a little bit in the offseason. They need it.
Follow me on Twitter: @MattBowen41