January 31, 2011 -
Matt Bowen
Vick and the Eagles: worth a long-term deal?
With the reports that the Eagles are expectecd to franchise QB Michael Vick for the 2011 NFL season, I am starting to wonder how long until we hear talk of a new long term deal—complete with that big bonus check.
Granted, we are all waiting for a new CBA, along with threats of a lockout from both the NFLPA and the owners. That will ultimately be the holdup for Vick and any other impending free agent, but the idea that Philadelphia is willing to shop backup QB Kevin Kolb speaks highly of their future plans with Vick.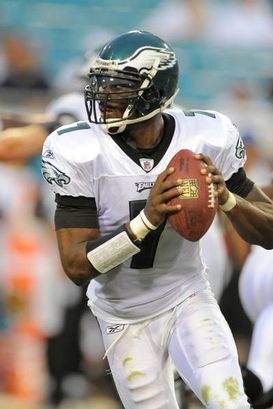 ICONThere is some risk with signing Vick to a long-term deal in Philadelphia.
I played against a young Vick during my career. But his comeback after spending time in federal prison has produced an even more dynamic and explosive player at the quarterback position. We should all agree with that, because there isn't another player like him in the league from a game plan or production standpoint. People talk all the time about QBs developing their overall talents in the league. We saw that from Vick in 2010. Still showed us that athletic ability, but also played like a true pro QB in the pocket.
You pay for that in this league with big money.
However, what are the risks to a long-term deal under Andy Reid and the Eagles? Despite the highlight reel Vick can put together—and the problems he can cause opposing defensive coordinators—there are some issues at play to discuss.
The first, from my perspective, is his durability. Vick missed time this past season and did seem to tire out towards the end of the schedule. That's going to happen with his style of play and I guarantee you every defensive coach in this league will instruct their players to put a helmet on him when he breaks the pocket. That's football—clean football—but it adds up over sixteen games.
Can he last? Can he absorb those hits? Because you can't take that out of his game. His ability to run the football makes him unique, dangerous. It forces opposing coaches to sleep in the office and carry on post practice meetings in the film room that last well into the evening hours. Script a game plan to limit his talents.
There is also the idea of investing in a player with previous off the field issues. Vick isn't going to receive a pass from the league office if he finds trouble moving forward. Step out of line and he will be looking at severe discipline from Roger Goodell. There is no question about that. I give credit to Vick for altering his lifestyle, but there is still that risk involved—different from investing in a player that hasn't had to be reinstated into the NFL.
Vick and the Eagles are an interesting discussion. All of this talent, playmaking ability, etc. "Unique" as I said above. Yes, we will most likely see the Philly QB given the franchise tag (which could be around $20 million for the season), but long-term talks should begin once a new CBA is put into place.
Would I sign him up and make Vick my QB for years to come? Yes, because talent like this isn't easy to find. I take that risk. What about you? What's your call? Let me know…
Follow me on Twitter: MattBowen41
Want to work in the NFL? Click here to sign up for the NFP's "Chalk Talk" seminar in Indianapolis at the Combine on February 25th.